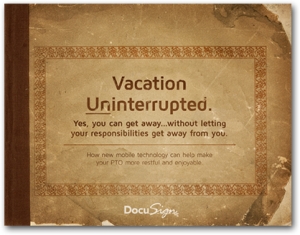 Ebook Download
Vacation Uninterrupted: How to Get Away Without Letting Sales Slip Through the Cracks
Did you know that more than 60 percent of employees check emails daily while on vacation, and only seven percent of Americans say they unplug completely during vacations? These days, smart sales managers find ways to help their salespeople (especially Millennials, many of whom want to stay wired even on vacation) be productive even during down time.
Download this asset today and get
up-to-date facts about how employees and salespeople use mobile devices today,
insight about how mobile-friendly apps can solve common productivity challenges.