How-To Guide
Grow Your Business with Docusign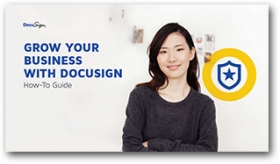 In today's economy, companies looking to grow their business and outpace their competition must consider implementing Digital Transformation (DX) strategies. DocuSign is empowering more than 250,000 companies to send, sign and manage agreements– anytime, anywhere, on any device with, trust and confidence.
Download this how-to guide and find out how DocuSign can help
Reduce barriers to the sales process,
Your sales team improve close rates,
Increase sales capacity and reach,
Accelerate time to revenue.