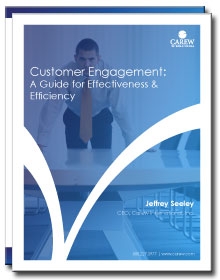 White Paper:
Customer Engagement:
A Guide for Effectiveness & Efficiency
Engaging with customers today is not just about the phone calls and emails. It also includes text, web chat, LinkedIn, Facebook, your company website, videos, blogs, and more. This increase in tools and choices means an increase in opportunities to waste time with the wrong engagement strategy.
Download this white paper. Learn how to create a better customer engagement game plan. You'll learn
which communications strategy is the best to improve your customer engagement plan
how to use social media tools to leverage your connections for sales
the best way to conduct research for better pre-call planning
how to carefully craft a strong, concise prospect message