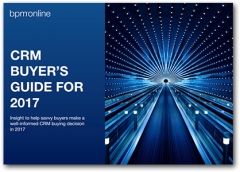 REPORT DOWNLOAD
CRM Buyer's Guide for 2017
Sales organizations need a well thought-out strategy to get the most out of CRM. Download this resource today and get valuable insight to help you get the most from your CRM investment.
In addition to accessing a list of reports about CRM offerings from third-party firms, you'll also learn how to:
Craft a winning CRM strategy.
Align your usage with specific business goals.
Select the best CRM vendors for you.