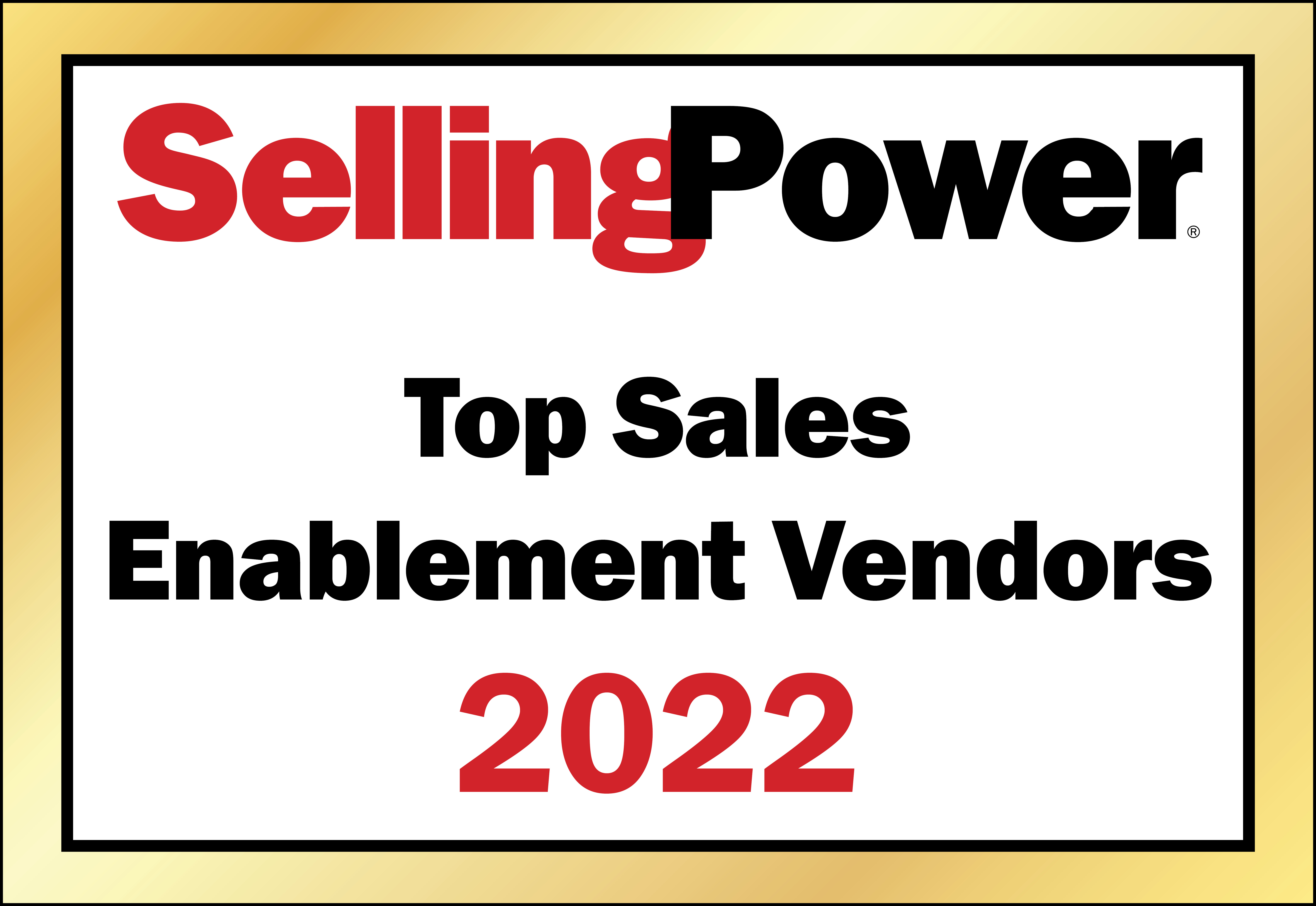 Selling Power is pleased to present our list of the Top 5 Sales Enablement Vendors in 2022. This prestigious list helps sales leaders identify and select sales enablement vendors with a track record of producing tangible ROI while also providing superior customer service.
Criteria for the Top Sales Enablement Vendors
The main criteria used when selecting the companies to include on the 2022 list of Top 5 Sales Enablement Vendors were:
Platform overview and features
Onboarding, analytics, and ROI
Customer support and platform security
Strength of client satisfaction and general client feedback
For the client satisfaction portion, the Selling Power team surveyed and considered feedback from more than 100 clients of the vendors that applied. Here is a glimpse of some of the client comments that helped land vendors on this list:
"Great platform and great people. They are continually updating and adding new features."
"Excellent customer focus and support. They continually strive to help us enable our global sales team and increase their productivity."
"Great onboarding experience and product rocks!"
"Top notch partner support, sales support, tech support, admin & finance. Awesome team. Love to see the product evolve."
"They have been a fantastic partner for many years."
"As a client, I feel as if I am working with a small business thanks to the excellent customer support and help my team and I receive. It's great to get answers to questions and feedback in just a few hours. The information I am able to get out of their platform is like nothing else in the market. It is easily digestible, helpful, a huge time saver and always shows our clients that we've done our homework, which in turn makes us look good."
Below is a snapshot of each of Selling Power's 2022 list of the Top 5 Sales Enablement Vendors. We encourage you to visit their Websites and reach out to them to discover how they can help improve sales performance and increase sales for your company. This list is organized alphabetically, and no priority or ranking is implied.
REQUEST AN APPLICATION: Top Sales Enablement Vendors 2023 listing
Selling Power's Top 5 Sales Enablement Vendors — 2022
This list is organized alphabetically and no priority or ranking is implied.