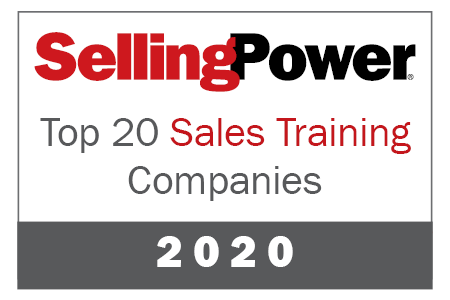 The 2020 list of Selling Power Top 20 Sales Training Companies has been compiled and is presented here!
Beginning eight years ago, the team of Selling Power experts has evaluated hundreds of applicants for inclusion on this annual list. This effort continues to help hundreds of thousands of salespeople around the world benefit from the insight of some of the best sales training providers.
Criteria for Best Sales Training Companies
The main criteria used when comparing applicants and selecting the companies to include on the 2020 list of Top 20 Sales Training Companies were:
Depth and breadth of sales training program offered
Innovative offerings (sales training courses, sales methodology, or sales delivery methods)
Contributions to the sales training market
Strength of client satisfaction
As part of the evaluation process, the Selling Power team also surveyed and considered feedback from nearly 300 clients of the companies that submitted applications. Among the companies that landed on the list, here's a brief selection of comments from their clients:
"well prepared and helpful through our sales training journey"
"provide an incredible follow-up survey and reinforcement experience"
"recently developed a true partnership"
"Great People, Great Service"
"content and customization is superb"
"helped us get clarity about our sales goals"
"training best fit our teams' needs and aligned with our company strategies"
Sales training in today's economy is more crucial than ever. The summaries below provide a snapshot of each company's major offerings. We encourage you to visit their Websites and reach out to them to learn more about how their insight can accelerate your sales team's performance.
Note: This list is organized in alphabetical order and no priority or ranking is implied.
Selling Power's Top 20 Sales Training Companies — 2020
Honorable Mentions — 2020
We are pleased to include 3 honorable mentions in this year's Top 20 listing:
For 27 years, Anthony Cole Training Group has worked with organizations to increase topline revenue and close their sales opportunity gap by helping them sell better, coach better and hire better. Sales-specific evaluations are used to c...

Learn more

---

Teneo Results transitions sales leaders, their sales team and their entire organization to be strategic, proactive and brave by changing product & price conversations to a more focused purposeful business conversation to increase profita...

Learn more

---

Tyson Group's mission is to coach, train, and consult with sales leaders and their teams to compete in a complex world. Taking a diagnostic approach, Tyson Group strives to understand sales teams and addresses gaps through a 4-step proc...

Learn more

---