Cold Calling 2.0 is the outbound sales process that helped Salesforce.com add $100 million in its first few years.
Cold Calling 2.0 doesn't involve any cold calling. In fact, if you're making cold calls, you are doing everything wrong.
Cold Calling 2.0 means prospecting into cold accounts to generate new business without using any cold calls. I define a cold call as calling someone who doesn't know you and who isn't expecting your call. No one enjoys this – neither the caller nor the person being called, right?
Cold Calling 2.0 also means you have processes and a system in place to generate new pipeline and leads predictably – that is, an organization knows how "X" effort will lead to "Y" results. In fact, done right, it can be the most predictable source of pipeline at a company – as with companies like Salesforce.com, WPromote, or Responsys.
While Cold Calling 2.0 is a system with many steps, there was one original breakthrough that started the snowball rolling.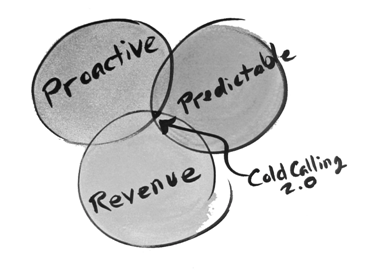 In early 2003, I was experimenting with cold calling to see if it would work. It did but far too slowly. Through cold calling, I found I was able to generate two highly qualified opportunities. I'm emphasizing "highly qualified" because frequently, outbound sales teams pump up their results by throwing over lots of poorly qualified demos and appointments to their account executives. So when I say high quality, I mean it.
Back to March 2003: I needed to generate at least eight highly qualified opportunities per month to hit our goals, yet I was doing only two per month through cold calling. OUCH. How was I going to quadruple my results?
Outbound Sales Breakthrough #1
The biggest bottleneck in prospecting into companies isn't getting to the decision makers/influencers/point people…it's finding them in the first place!
Often, the ultimate decision maker, such as the CEO, or VP of sales in the case of Salesforce.com, is not the best person for your first conversations. And in larger companies, there can be so many people with the word "sales" or "marketing" in their title, it's impossible to tell from the outside who does what.
I learned this through hard work – cold calling, cold emailing, plugging away. I realized I spent most of my time hunting for the right people, not trying to sell or qualify them.
If I could find the right people, I could usually have a productive business conversation with them. But it took a LOT of time to find them, especially in those Byzantine, Fortune 5000-size companies!
In desperation, I tried an experiment.
I'd always assumed that mass-emailing executives wouldn't work. Don't I need to carefully craft each email to make it personal?
I wrote one email that was a classic cold-calling letter: "Do you have these challenges? X, Y, Z…" I also wrote a totally short-and-sweet different email – in plain text with no HTML – simply asking for a referral to the right person at the company.
Here was a lesson learned in the value of A) not assuming anything and B) experimenting:
On a Friday afternoon, I sent two mass emails from Salesforce.com, 100 of the classic sales emails to Fortune 5000 executives and 100 of the short-and-sweet emails to the same kind of list. The next morning when I checked email, I had 10 responses sitting in my inbox! These were from C-level and VP-level executives at large companies – just the people with whom I wanted to talk.
Response rate for the "salesy" email: 0 percent.
And at least five of the emails I received from the short-and-sweet campaign were positive, referring me to other people in the organization as the best person for a conversation about sales force automation.
Outbound Sales Breakthrough #2
Mass emailing C-level Fortune 5000 executives with specific kinds of emails can generate 9+ percent response rates.
Those high response rates (7 to 9 percent or more) from high-level executives have held true year after year, even with my current clients in 2011, seven years later.
A 500% Increase in Results
In the next month, April 2003, I increased my results by 500 percent and generated 11 highly qualified sales opportunities that continued on in live sales cycles. (And this increase in opportunities did later lead to an equal increase in revenue.)
Hence, the tipping point of the Cold Calling 2.0 process was born: sending mass emails to high-level executives to ask for referrals to the best person in their organization for a first conversation.
This became the first step in a longer outbound sales process and created a highly predictable flow of quality leads, and thus revenue, at Salesforce.com, almost doubling enterprise and midmarket growth.
About Aaron Ross and Predictable Revenue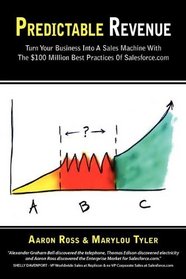 Aaron Ross is managing partner of Predictable Revenue, Inc. (www.PredictableRevenue.com). His new book is Predictable Revenue: Turn Your Business Into A Sales Machine With The $100 Million Best Practices Of Salesforce.com. Aaron is also CEO of PebbleStorm and helps people start fulfilling businesses (www.UniqueGenius.com).
Full disclosure: Aaron Ross is not a customer of Selling Power.