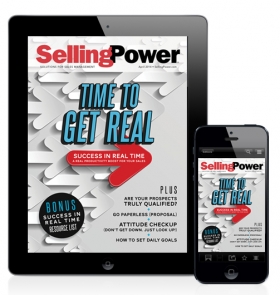 A Special Offer:
Get Selling Power magazine in the Cloud
Achieve quota-busting sales results every month. We deliver action-packed content that's based on real-world experience, written by experts and vetted by savvy editors who know the tough challenges sales executives face.
Selling Power magazine is the new, on-line, video-enhanced, turn-page, social media interactive magazine that works on your desktop, laptop, iPad and Android tablet.
Act now and lock in the
one-year subscription rate of only $29.
Here is what you'll get:
12 exciting issues of Selling Power magazine – designed to improve your mindset, skills-set and toolset so you can reach and exceed your sales goals
Practical advice on the latest sales technologies and methodologies designed to accelerate sales and reduce your cost so you can impress your CEO while depressing your competition.
A $180 benefits package (View here): Five eBooks designed to boost sales and one Sales Optimization Research report. Ready for download immediately after you sign up for your subscription.
Your subscription will begin immediately with access to the current issue. You will receive a new issue each month and a total of 12 action-packed issues.
You pay only $29 a year (and you'll get the $180 benefits package).
Please Enter Your Information Below.
All fields are required.
By subscribing to Selling Power magazine you agree that as part of your subscription, we will establish a SellingPower.com user account for you. Review the SellingPower.com Privacy Policy
here
.
Want to get Selling Power for every member of your sales team?
Corporate subscriptions are available at reduced rates. Our customer service representatives will be happy to help you.
Email CustomerService@sellingpower.com or call 1-800-752-7355.