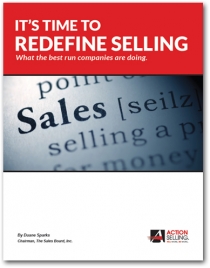 White Paper Download:
It's Time To Redefine Selling:
What the best run companies are doing.
What needs to change today about the way your company sells? Learn about the trends that 'Best in Class' companies are turning into gold.

Download this PDF today and learn:
Why (and how) everyone – not just the sales team – can increase your value with customers.
How the rise of inside sales has affected the entire sales process.
Why every employee must make dramatic changes to their customer communication.
Why "closing" has become a dirty word.