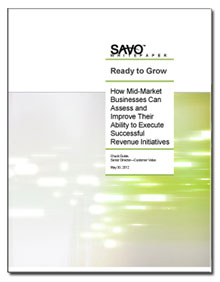 White Paper Download:
How Sales Enablement Leads to Revenue Growth
In a business environment where only 30% of growth initiatives succeed, the ability to execute separates winners and losers. Companies with better sales enablement performance have higher growth rates. Quite simply, sales enablement is whatever will empower the sales force to sell. Sales enablement prepares your team to execute your growth initiatives, turning theory into action in the field.
This white paper will provide you with:
– The 12 core competencies that measure a company's effectiveness in meeting its growth initiatives
– Key steps to successful sales enablement that empower sellers to win more sales and drive higher revenues
– Five best practice steps for a sales enablement initiative