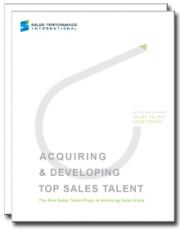 White Paper:
Acquiring & Developing Top Sales Talent
The Role Sales Talent Plays in Achieving Sales Goals
For the past 25 years, Sales Performance International (SPI) has supported hundreds of sales transformations. After working with so many sales organizations, SPI experts note that a cornerstone of successful change is acquiring and developing top sales talent.
Download this white paper today and learn how sales leaders can
define what good looks like,
effectively assess existing sales reps,
align hiring practices with ideal candidate profiles,
track internal hiring trends and progress.