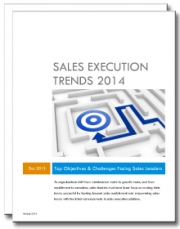 Executive Summary:
Sales Execution Trends 2014
According to a new study of 220 B2B sales and sales-enablement leaders, a push to capture more business profitably is the number one priority for 59% of organizations in 2014. However, sales teams still face many challenges when it comes to engaging customers.
Download this report and learn more about how to solve these challenges and improve your chances of achieving your organizational goals this year.