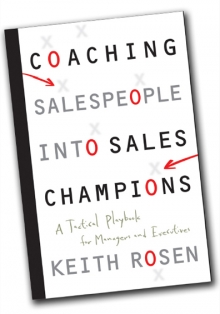 Book Chapter Download:
Coaching Salespeople into Sales Champions:
What Top Leaders Do To Win More Sales Today
A globally recognized authority on sales and leadership, Profit Builders CEO Keith Rosen is fanatical about helping sales managers become highly successful coaches so that they can create their new competitive edge. Download the first three chapters of his book, Coaching Salespeople into Sales Champions. That's 93 pages of rich content from the #1 best-selling sales management book on Amazon.com and the coaching framework of choice amongst the world's top sales organizations.
You'll take away tons of ideas, including:
How to make the shift from sales manager to sales coach.
Nine barriers to coaching your sales team.
The universal principals of masterful coaching.
How to overcome fear – and how to coach it.
Six fatal coaching mistakes and how to avoid them.
Five core characteristics of the world's greatest sales coaches.
Training Doesn't Create Sales Champions. Managers Do.