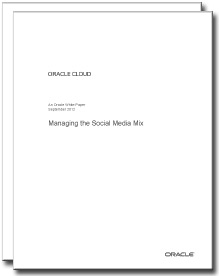 White Paper:
Managing the Social Media Mix
Social media holds amazing potential for business communications. Sales reps and marketers can also leverage social media to achieve increased revenue. However, many sales and marketing teams have been overwhelmed by the rapid growth of trends and best practices in this arena.

The "social media mix" approach outlined in this white paper will help you determine how to best use various social media/marketing outlets in order to make the most of your social media efforts.