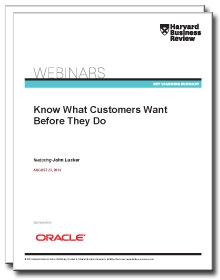 Harvard Business Review Report:
Know What Customers Want Before They Do
Today's consumers and B2B companies only want interactions that are relevant, personalized, and based on a customer's situation and preferences. Companies that fail to provide relevant offers will be left behind.

The best way for companies to achieve personalization and build long-lasting customer relationships is by leveraging technology and analytics. In particular, next best offers (NBOs) are a way of providing better, more precise marketing.

When done right, NBOs can increase cross sell/upsell opportunities, boost profits, and create competitive advantage. Download this report to learn more.