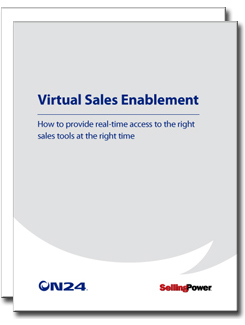 White Paper
Virtual Sales Enablement:
How using the right sales tools improves sales performance
Many sales leaders struggle to find cost effective ways to train and coach a large, widely dispersed sales force. Today you can enable your team virtually to maximize your return on coaching and training efforts.
Download this free white paper and learn how to capture your sales team's tribal knowledge in order to:
Find cost-effective ways to create teams that use consistent messaging.
Create a culture that accommodates how salespeople learn best.
Give existing and recently on-boarded reps easy ways to access information right when they need it.
Leverage the best, existing assets to boost sales performance.