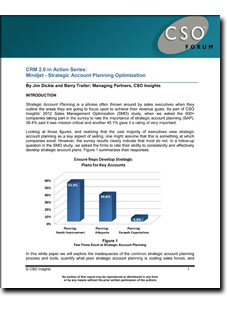 STUDY:
How to Optimize Strategic Account Planning
According to CSO Insights, 76 percent of reps who excel at strategic account planning routinely hit quota and win 53 percent of their forecasted deals. The implications for the bottom line are clear: with the right approach to strategic account planning, companies can increase revenue per rep by up to 20 percent.
This 7-page report supplies expert advice on how to:
Create a successful framework for initiating a strategic account plan.
Avoid the most common mistakes related to strategic account planning.
Fully leverage CRM and technology to achieve success with strategic accounts.