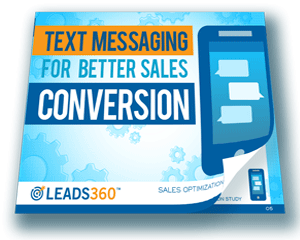 Sales Optimization Study:
Why Text Messages Create Better Sales Conversion
This new study, conducted by Leads360, analyzes the text messaging practices of more than 3.5 million prospect interactions. The findings reveal the positive and negative impact text messaging can have in the sales process. In the report you will learn when text messaging hurts sales efforts, and when it can help turn prospects into sales.
Download this report and also learn:
Text message strategies that result in the highest win rates
When not to use text messages with a prospect
Best practices for text message timing, and the number of texts to send
Evaluating which opportunities are worthy of texting a prospect