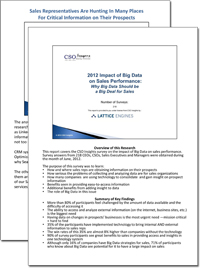 Research Report:
2012 Impact of Big Data on Sales Performance: Why Big Data Should Be a Big Deal for Sales
In June 2012, CSO Insights surveyed 218 senior executives to uncover the impact of "big data" on sales performance. Download this complimentary research report now to see the results and a summary of key findings.

You'll learn compelling information about how sales reps are leveraging technology and data to become more effective sellers - and where many sales organizations still have room to improve.