eBook:
The Coming Technology Transformation of the Deskless Workforce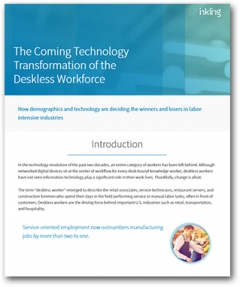 According to Forrester, more than two-thirds of businesses indicate that content in their organization is not in a format that helps them in their moment of need. How can sales leaders make sure their teams stay productive in a mobile era?
Download this ebook now and learn
The challenges of the "deskless" workforce.
Benefits of mobilizing deskless employees.
Why you need to take steps today to modernize your workforce.