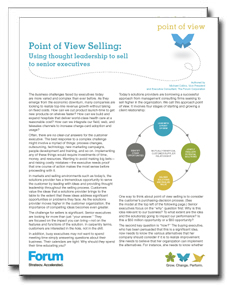 White Paper:
POV – Using Thought Leadership to Sell to Senior Executives
Successful sales professionals have a gift for establishing strong relationships with customers and prospects. However, very few sales teams set themselves apart by leading with ideas and providing thought leadership throughout the selling process. Taking insights from various industry reports and surveys, this white paper reveals how sellers can:
develop a point of view,
provoke interest, and
catalyze decision-making to develop winning results.