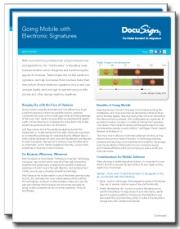 White Paper:
Going Mobile with Electronic Signatures
Electronic signatures can help businesses finish business faster than ever before by letting you and your contacts legally send and sign documents using mobile phones and other devices.
Download this white paper and learn more about how you can benefit from a mobile electronic-signature solution. You'll learn the following insights.
How mobile can help you keep pace with today's customer.
The business benefits of going mobile.
What to consider when choosing solutions.
Expert tips for getting started with a new solution.