Report
How to Prepare for the Future of Sales Coaching to Drive Performance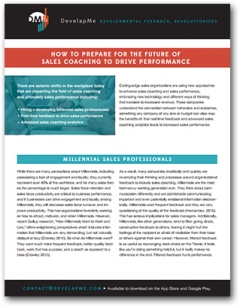 Seismic workplace shifts are impacting sales coaching and sales performance. This means it's time to explore new approaches to enhance your sales management efforts.
Download this report and get valuable insight on how to:
Hire and develop Millennials to fill B2B sales roles.
Adapt to the way Millennials prefer to communicate so you get the best performance from them.
Leverage sales-coaching analytics to boost your team's revenue potential.