Report
How to Avoid Sales Pitfalls With End-to-End Sales Acceleration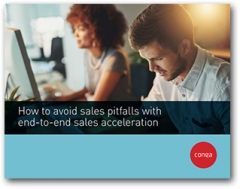 Sales organizations today face intense pressures: Teams have to constantly sell better, sell more, and sell faster. At the same time, the connected customer is looking for a personalized experience, a sales rep who is a trusted advisor, and very quick (if not instant) response times.
Download this report today for insight on how to achieve success in this environment. You'll find out how you can:
Simplify your sales process.
Increase sales productivity.
Reap the benefits of end-to-end sales acceleration.
Avoid major sales pitfalls.