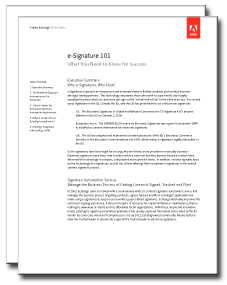 White Paper:
e-Signature 101: What You Need to Know for Success
What can e-signatures do for your enterprise sales organization? Download this white paper and learn how leading companies are using e-signatures across all departments to accomplish the following (without draining valuable IT resources)
advance the sales cycle,
increase visibility,
improve channel efficiency, and
improve compliance and governance.
You'll also find out critical criteria for evaluating an e-signature solution, and details on how leading e-signature application vendor EchoSign effectively manages the business process of getting contracts signed, tracked, and filed.