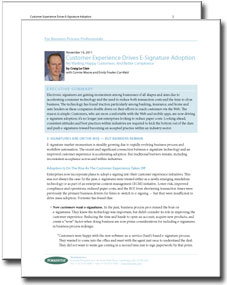 Forrester Report:
Why E-Signatures Create Faster Sales Cycles and Happier Customers
Electronic signatures have gained momentum among businesses of all sizes. The reason is simple: Customers, who are more comfortable with the Web and mobile apps, are now driving e-signature adoption; it's no longer just enterprises looking to reduce paper costs.

For sales managers, the real impact is that e-signature technology increases the speed of order and cash flow.
Read this white paper and learn how e-signatures technology accelerates sales closing cycles and improves the buying experience of your customers.