Selling Power in the Cloud
Selling Power
Magazine in the Cloud is available only through a paid subscription.
Already have a
Selling Power
Magazine in the Cloud subscription?
Login
Subscribe now
and you can read
Selling Power
on your iPad, Android tablet or computer. Click
here
to Subscribe for only $29 / year.
The
Digital Edition
has been updated to a new on-line, video-enhanced, turn-page, social media interactive edition that works on your computer, your iPad and Android tablet.
Your February 2014 issue of Selling Power Magazine in the Cloud is now available.
Content Reuse
All material in Selling Power magazine and on www.sellingpower.com is copyrighted. Reuse in any form without permission of the publisher is a violation of federal law. For information on reuse of any material copyrighted by Selling Power, please contact Customer Service at 1-800-752-7355 or 540/752-7000 or email orders@sellingpower.com
Webinar
It's OK to be Selfish - How to Enable Reps to Succeed


Tuesday, March 18
2 pm ET / 11 am PT


Register Now
Upcoming Event
Workshop: Using Insights to Provide Value to Customers & Win More Deals


May 7, 2014


More Info
Daily Cartoon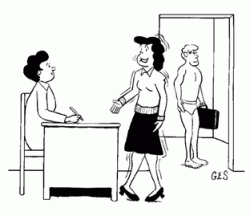 Believe me, he's not just another underwear salesman!