Selling Power Magazine – May 2015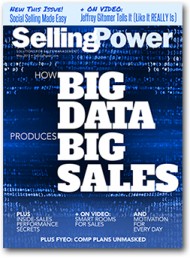 Features in this issue include:
How Big Data Produces Big Sales
Inside-Sales Performance Secrets
Motivation for Every Day
On Video: Jeffrey Gitomer Tells It (Like It REALLY Is)
New This Issue! Social Selling Made Easy
Talk Smart to Close
Daily Boost of Positivity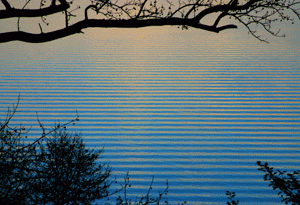 Salespeople need to address emotions. It doesn't help to obsess about rejection and disappointment. It's easy to fall into the poor-me syndrome or fall prey to negative emotions, such as hurt, anger, or fear. But the most successful salespeople find ways to get over it, stay focused, and continue on. When you're feeling down in the dumps, rethink the way you evaluate sales performance. Instead of evaluating yourself on the number of closed sales, look at the progress you're making in each component of the overall sales process. It's very possible that you're accomplishing positive things, such as securing more…
SUBSCRIBE TO THE DAILY BOOST OF POSITIVITY
White Papers, Reports, and Special Offers
Webinar
Scalable Growth: How to Get New Hires to Presidents Club Faster


Wednesday, May 20
11 am PT / 2 pm ET


Register Now
Daily Cartoon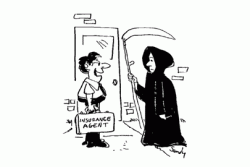 After I make my 'whole life' spiel, you stroll past his window...