Selling Power Magazine – May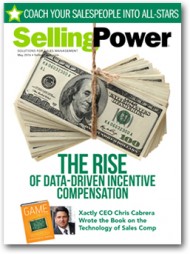 Features in this issue include:
The Skinny on Sales Compensation Today
Coach Your Salespeople into All-Stars
How to Excel at Time Management
How to Transform Hope into a Success Plan
Understanding Your Buyers' True Feelings
Daily Boost of Positivity
Do you base selling decisions on what you assume about your customers or prospects – or what you know for a fact? By acting on facts that you know are correct, you increase the odds that your sale will reach the closing stage. Successful reps bet on sound, strategic planning that minimizes guesswork and evaluates possibilities. Instincts are important, but you shouldn't be using them to steer your ship to successful waters.
SUBSCRIBE TO THE DAILY BOOST OF POSITIVITY
White Papers, Reports, and Special Offers
Webinar
How to Create & Sustain Relationships of Value


Tuesday, May 10
10 am PT / 1 pm ET


Register Now
Upcoming Event
Sales 2.0 Conference, San Francisco


Monday, July 18 – Tuesday, July 19


More Info
Daily Cartoon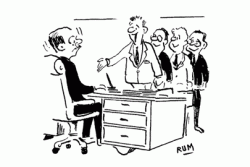 Good morning, Mr. Jones. I'll be your salesman today. Assisting me will be Mr. Smith of Customer Service, Mr. Brown of Engineering and Mr. Olsen of Merchandising.