Selling Power Magazine – December 2014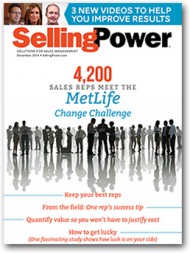 Features in this issue include:
4,200 Sales Reps Meet the MetLife Change Challenge
Lucky You: This study shows how luck really is on your side
Quantify value so you won't have to justify cost
Keep your best reps from jumping ship
Daily Boost of Positivity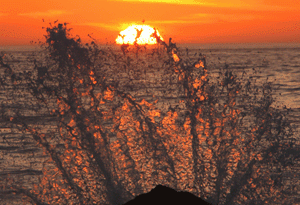 What should a salesperson do when customers become disagreeable? This largely depends on the situation – who is this customer, how long have you had this relationship, and what's the nature of the disagreement or complaint? Very often, customers harbor complaints that can actually provide salespeople with valuable feedback about how they're communicating or what kind of products or services would be a better fit. Try looking past the tone or attitude and see if there's anything you can take away from the situation that would end up serving you well in the future. No matter what (even if you decide the customer is more…
SUBSCRIBE TO THE DAILY BOOST OF POSITIVITY
White Papers, Reports, and Special Offers
Upcoming Event
Sales 2.0 Conference


Monday, March 16


More Info
Daily Cartoon
Okay, I'll buy a fire extinguisher. Boy, whoever supplies your leads is really on the ball.