Selling Power Magazine – July 2015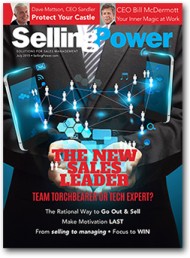 Features in this issue include:
Cover Story – The New Sales Leader
The Rational Way to Sell
SAP CEO Bill McDermott's "Inner Magic"
Jeffrey Gitomer on The New Sale
Make the Successful Transition from Selling to Managing
Create Value for Customers
How to Make Motivation LAST
Daily Boost of Positivity
Unfinished business is a mental burden. Learn how to close the loop on negative experiences so you can lighten your load. In his classic book Feeling Good: The New Mood Therapy, Dr. David Burns suggests writing automatic thoughts after a negative experience on the left-hand side of a piece of paper and then objectively appraising each thought one by one with a rational response. This will help break negative thought patterns and keep them from distorting your outlook on life.
SUBSCRIBE TO THE DAILY BOOST OF POSITIVITY
White Papers, Reports, and Special Offers
Webinar
Sales Force Effectiveness Initiatives - Impact Worth the Investment


Tuesday, August 25
10 am PT / 1 pm ET


Register Now
Daily Cartoon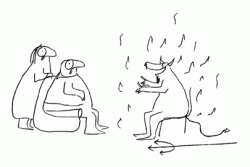 It's a great program. You sell me your soul. Then you get five distributors to sell me their souls. Then each of them gets five distributors...