Selling Power Magazine Article
The Shy Guy
"The rain was coming down for hours while all these jerks were being introduced and praised," he said. "But all I'm thinking about is that all these politicians who opposed the bridge are being applauded. Yet, in a corner, just standing there in the rain, is this man, this 85-year-old engineer who came from Sweden and designed this bridge, who poured his heart into it, and nobody even mentioned his name.
"I realized then and there that if you let people treat you how they want, you'll be made a fool. I realized then and there something I would never forget: I don't want to be made anybody's sucker."
In his intervening 40 years as a real estate magnate, casino operator, best-selling author and perennial tabloid headliner, Trump has been called plenty of names, but never "sucker." In amassing an empire estimated (by Trump himself, so allow for significant overage) at somewhere between $2 and $6 billion, much of which was built with the assiduous application of other people's money, Trump has demonstrated an uncanny ability to identify and exploit opportunities, combined with an unusual gift for deal making. Say what they will about his outsize ego, unrelenting self-promotion and tacky nouveau-riche lifestyle, few critics would argue that Trump ever lets anyone get the better of him.
Nowadays Trump's critics are vastly outnumbered by his adoring fans, anyway, and all thanks to the success of his hit reality TV series,
The Apprentice.
Currently in its second season,
The Apprentice
has launched the man who was once known primarily as the world's most (and only) famous real-estate developer into the celebrity stratosphere as one of the nation's top TV stars. In any public venue where he appears, Trump is immediately mobbed by admirers who, almost in unison, happily shout out his now iconic tag line "You're fired!"
The Apprentice,
with Trump as king-maker, doling out gold-plated pearls of wisdom to a gaggle of aspiring Donalds and Donaldettes, is predicated on the idea of Trump as a sort of über-businessman – a premise accepted by the contestants, audience and, naturally, the host himself. But to what extent does the reality measure up to the reality show? Under scrutiny, does Trump's background justify this public coronation as this generation's greatest business executive?
Trump unquestionably embodies many of the qualities shared by top sales professionals, including vision, tenacity, charisma and tough negotiating chops. He also has a knack for being able to grease the wheels to get things done, whether that means bullying, cajoling or tackling a problem personally by getting his own hands dirty (metaphorically, that is – Trump is a notorious germophobe who loathes shaking hands and keeps plenty of sanitary wipes on hand for immediately afterward).
Learning the Art
From a selling perspective, Trump certainly got an early start in the deal-making business. While in college at the University of Pennsylvania's Wharton School, he demonstrated that he'd picked up a few tricks from his father, a millionaire developer of Brooklyn, Queens and Staten Island apartment buildings, by buying up and renovating small pieces of Philadelphia real estate. For the five years following graduation he steadily upped the ante, investing in larger and larger properties stretching from Virginia and Ohio to Nevada and California.
By the mid-'70s, the young developer was ready to take Manhattan. On the limited strength of his name, an admittedly meager resume and sheer force of personality, Trump talked his way into bank loans, tax deals from the city and lowball prices from property owners. As a result he laid groundwork for the city's new convention center, bought up a variety of buildings around town and a rebuilt a hotel over Grand Central Station.
It was this latter deal that first made heads in the Manhattan development scene turn Trump's way. Sensing an opportunity in the dilapidated and failing Commodore Hotel around the crumbling 42nd Street area, he constructed the deal brick-by-brick, one sale at a time. He first secured an option for the property from the bankrupt Penn Central Railroad for $10 million, then persuaded the city to give him a 40-year tax abatement – something no commercial property owner had ever done. Next he brought in as a partner the Hyatt Corporation, which then just happened
(continued on page 2)
Free Webinar
Shorten the Sales Cycle: How to Generate More Sales in Less Time


Wednesday, November 1
2:00 pm ET


REGISTER NOW >
Upcoming Event
Sales 3.0 Conference


Monday, December 4


More Info
Daily Cartoon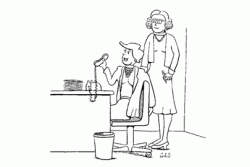 If answering machines would place orders,
I'd be having a great month!