Salesforce.com Partner e-newsletter
Innovative Ways Ariba Uses Salesforce.com
Geoffrey James
Once the poster child for the dot-com boom, Ariba is now a software company that helps 94 of the Fortune 100 manage their business processes more efficiently. Part of the reason for Ariba's huge market success is that it's a big user of salesforce.com. To understand how Ariba uses this powerful tool, we interviewed global vice president Paul Melchiorre, who joined Ariba's founding team as the first outside executive and was responsible for building the field organization for sales, implementation, service, alliances, and channels. Prior to joining Ariba, Melchiorre worked for SAP, and as an individual sales rep, he sold $65 million in license fees. In 1994, he helped to establish the first global deployments of R3 in America.

Selling Power (SP): Why did Ariba decide to go with salesforce.com?
Paul Melchiorre (PM): The decision to move to salesforce.com was easy, because the Software-as-a-Service (SaaS) model provided us a full CRM suite for less than our maintenance cost with the Seibel product. After years of frustration attempting to deploy Seibel, we had a very expensive forecasting tool. When we evaluated the different CRM products, functionality was not an issue; most of the tools had the functions we were looking for. Salesforce.com had the community of users and the ecosystem of partners that really made us feel confident that it would be around and continue to enhance the offering.

SP: What are your plans for extending your sales technology beyond its current capabilities?
PM: We integrate our sales process into salesforce.com and are already using the tool to do some creative things on the marketing side. Our next big move is to implement marketing automation. We have chosen a solution and are currently planning to deploy it. This solution will help close the gap between lead generation and integration into the sales process. We have done many improvements over the past two years to better generate leads and provide higher-quality leads to the field. Enhancing our inside sales capabilities will also be an improvement, and we are currently in evaluation for a compensation-management system.

SP: What should sales-technology vendors do better in order to get on your radar screen?
PM: I hear from sales-technology vendors all the time. It is a crowded market, and sometimes it is difficult to differentiate what it is they really do. It is sometimes a sales-operations person's role to evaluate the alternatives, because the field vice presidents of sales are sometimes too focused on transactions to step back and look at the process. I think the key for any vendor is to ensure the message is keyed not only to vice presidents responsible for sales, but also to operational groups supporting them. Of course, the marketing and sales teams need to work together for any of these solutions to work.
Upcoming Event
Peak Performance Mindset Workshop for Sales Leaders


Tuesday, December 5


More Info
Daily Cartoon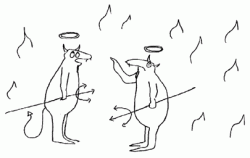 I didn't want one either, but the guy had such a great sales pitch.