Selling Power Magazine Article
Six Low-Tech Ways to Prepare for the Future of Selling
Lain Chroust Ehmann
In sum, the lone-wolf mentality is going the way of the dodo. Today, collaboration is the thing. It's becoming increasingly beneficial to drop the individualist attitude and let others know that you rely on their support and value their input. Here are six simple, low-tech ideas to use today to improve your relationships and prepare for the future of the connected selling environment.
1. Follow the golden rule. When you treat others as you wish to be treated, you're investing in the future of those relationships. Use this rule with colleagues, customers, and even the competition. Bad-mouthing the other guy usually has a way of coming back around, especially in an age of social media and transparency.
2. Don't abuse your power. If you're a manager, you never know when the subordinate you just ripped apart in front of the entire team will be promoted to your rank – or above. In addition, when others see you abusing your power, you undermine their trust and respect, which are critical to participatory management.
3. Keep the work environment positive. Even when you're behind the eight ball, there's no reason to use verbal abuse, fear, or threats to get the support you need. Catch more flies with honey instead.
4. Handle things at the lowest possible level. If you've got a problem with a peer, try to work it out with him or her directly before seeking help from upper management.
5. Reach out when necessary. Everyone you interact with has unique goals and talents. Remember,when you have a problem you can't figure out, someone else can probably help. Teamwork wins.
6. Use language that will persuade everyone. Back up your ideas for innovation with hard numbers, facts, statistics, precedents, and logic. If you can prove how your ideas will improve sales, your team will see things your way and be happy to follow.
Upcoming Event
Sales 2.0 Conference


Monday, November 14


More Info
Daily Cartoon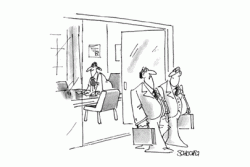 I still can't get used to selling to someone with an earring and a ponytail.