/// Daily Quote
"The future of work consists of learning a living."
-- Marshall McLuhan

Selling Power Magazine Article
Make the Most of Networking

Subscribe Now
"Everybody has contacts, but you can get bottom-line results if you make your contacts count," says Lynne Waymon, cofounder of Contacts Count, a nationwide training firm specializing in business networking (contactscount.com). Based on a survey of businesspeople, Contacts Count has concluded that only about 15 percent of them have the networking skills they need to accomplish their goals.
In terms of your comfort and skill level, Waymon points out that you're in charge of managing your mind-set, so eliminate any outdated beliefs about networking and replace them with an attitude that makes it easier for you to reach out to people. For example, it's your responsibility to teach a new contact your name, not his or her responsibility to remember it, especially if in a social setting where everyone's meeting many people at once.
To meet more people faster, look for group situations – clubs, teams, choirs, alumni groups, professional organizations, charity boards – where people are already gathered and expecting to socialize. And when it comes to follow-through, Contacts Count studies show that it takes six meetings with someone before he or she feels comfortable with your character and competence. It's your job to arrange those six meetings and use them to build trust and understanding.
– Kim Wright Wiley

Today's blog post is by Dan McDade, author of The Truth About Leads. Recently, over a cup of coffee, Dan Waldschmidt (Waldschmidt Partners) and I talked about the herd mentality that causes many well-intentioned businesspeople to follow the crowd blindly - often in the wrong direction - based on one so-called expert or another proclaiming that "cold calling …
READ THIS BLOG
>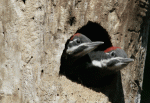 /// Upcoming Event
Sales 2.0 Conference
Monday, March 10
8:00 am
More Info
>