/// Daily Quote
"Try not to become a man of success, but rather a man of value."
-- Albert Einstein

Selling Power Magazine Article
Cost Consciousness

Subscribe Now
Ask professionals in healthcare-related sales about their biggest selling challenges, and today's strict regulatory environment will likely top their lists. Exacting and ever-evolving regulations affecting everything from patient care to biopharmaceutical transportation has created a highly complex, highly consultative sales environment in which reps must not only be able to demonstrate rigorous regulatory compliance but also overcome heightened customer resistance to change.
"We have a twelve- to eighteen-month sales cycle driven by regulatory and compliance concerns that have to be addressed before customers would ever consider changing their thermal packaging," says Kevin Lawler, vice president of sales and marketing for Minnesota Thermal Science (MTS), a Pelican biopharma company that provides thermal-protection packaging solutions for the safe transport of pharmaceuticals, tissue, diagnostics/clinical trials, and blood supplies.
Customers are also more cost conscious than ever before, in part because they shoulder the costs associated with changing regulations. Cost concerns are also being driven by a looming wave of patent expirations. According to Lawler, by 2020, 90 percent of drugs will be generic. Future competition dictates that pharmaceutical companies seek cost reductions at every opportunity.
Lawler says that MTS has responded to these challenges by focusing on the financial sale: "Because clients are focused on cost reduction, we go in and build a case to show the financial advantages of our solution. The case must be strong enough to overcome concerns about compliance and operational-change objections."
The approach is a new one for MTS. Until about two years ago, sales conversations were centered around MTS's technology. As Lawler noticed that cost was becoming the driving factor in decision making once compliance was established, he began developing tools to help reps establish a solid financial case. He also set up training on the financial sale, teaching account executives about the areas in which MTS solutions impact cost and questioning techniques to uncover the right numbers to plug into cost models.
"We focus a whole lot more thoroughly and earlier in the selling cycle on the financial case and try to prove that out, which leads to more positive decisions by the client to move forward in the sales process," says Lawler. He adds that MTS recently closed a sale with a large pharmaceutical company based on proof that MTS could save the company $2 million annually: $1 million on packaging and the other $1 million on distribution.
Lawler anticipates that this new strategy will help MTS reduce its sales cycle to 12 months or less. The strategy has already increased sales effectiveness by enabling MTS to better identify the right opportunities. A strong financial case means a rep is working on a solid opportunity. When the numbers reveal a weak financial case, MTS can walk away with confidence early in the selling cycle – a benefit to both MTS and the prospect.
Lawler says he and his team will continue to develop and refine their ability to make the financial sale. They will also impart these skills to their international distribution partners. Training for new partners recently began in the Middle East, South America, and the Far East, and Lawler anticipates seeing a boost in productivity following completion of that training. "The cost pressures in healthcare will continue to be there," he concluded. "We just have to keep getting better at what we are doing."
About Minnesota Thermal Science
Since 2004, Minnesota Thermal Science (MTS) has been a global leader in providing the life-sciences industry with a comprehensive suite of thermal-protection packaging solutions for the safe transport of pharmaceuticals, tissue, diagnostics/clinical trials, and blood supplies. Based in Plymouth, MN, MTS provides clients worldwide with products and services that offer thermal protection for temperature-sensitive products, in all temperature ranges for up to seven days.
MTS sells through both a direct sales force and a team of worldwide distributors. In January 2013, the company was acquired by Pelican Products Inc., a leader in the design and manufacture of high-performance case solutions.
Kevin Lawler, vice president of sales and marketing, joined MTS in 2009 and has more than 25 years of sales-leadership experience, predominantly in early-stage, growth-oriented companies. Before joining MTS, he was a leader in growing Computech Resources into a $35 million technology and consulting services company, positioning it to be acquired.
– Heather Baldwin

Today's blog post is by Dan McDade, author of The Truth About Leads. Recently, over a cup of coffee, Dan Waldschmidt (Waldschmidt Partners) and I talked about the herd mentality that causes many well-intentioned businesspeople to follow the crowd blindly - often in the wrong direction - based on one so-called expert or another proclaiming that "cold calling …
READ THIS BLOG
>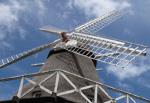 /// Upcoming Event
Sales 2.0 Conference
Monday, March 10
8:00 am
More Info
>