Selling Power Magazine Article
Selling Power 500
Selling Power Editors

Subscribe Now
Every year,
Selling Power
magazine's research team ranks companies according to the estimated number of salespeople they employ. The 500 top companies in America – which employ the world's largest sales forces – depend on almost 24 million salespeople to achieve their revenue goals, and this year marks the third consecutive year that the number of salespeople has topped the 23 million mark. This research shows that, without question, the men and women who make up each company's sales force produce the revenue that will continue to fuel this country's economic recovery.
The 2013 SP 500 list includes the top 200 companies in the manufacturing industry, the top 200 companies in the service industry, the top 50 insurance companies, the 30 largest direct-selling companies, and the top 20 automotive-dealer organizations (megadealers).
Every year, new companies make the list while others drop off. The total number of salespeople employed by all 500 companies adds up to 23,815,672, which represents a small increase of about 2 percent, or just slightly more than 400,000 more salespeople than last year's numbers showed. This overall change, although still small, is more than double last year's increase and may signal some momentum in the economy as a whole.
The direct-selling category, which posted a small 1 percent increase in 2012, posted a slightly higher 2 percent increase this year, a possible indication that people are still seeking an alternative to the more traditional full-time sales force. The number of salespeople in the manufacturing category statistically remained the same, but the number of salespeople in the service category declined by almost 4 percent. Likewise, the number of salespeople in the insurance category decreased by 4.6 percent. The automotive industry actually posted an encouraging increase in the number of salespeople: up more than 5 percent from last year. Overall, without the direct-selling numbers, the total number of salespeople decreased by more than 60,000, marking a second consecutive year of decline, due mainly to a decrease in both the service and insurance categories.
The states with the most SP 500 companies are New York (52), California (47), and Illinois (33). The states in which the SP 500 companies employ the largest number of salespeople are New York (6,725,221), California (4,979,420), and Michigan (3,032,965). These states account for about 26 percent of the total companies and a whopping 61 percent of the total salespeople.
Productivity on the Increase

Our research team continued to find that salespeople employed by manufacturing firms contribute far more in sales revenue compared to other industry segments. The top 200 manufacturing firms employ 482,484 salespeople and produce almost $3.8 trillion in sales. That's an average of more than $7.8 million in sales per salesperson. This actually represents no significant (-.05 percent) change in productivity compared to the previous year and is down from 2011's large 15 percent productivity increase. It should be noted that the number of manufacturing salespeople remained relatively unchanged, losing about 3,500 salespeople compared to 2012. The total number of manufacturing employees grew this year, increasing by more than 2 percent over last year.
The top 200 companies in the service sector reported a small but significant decrease of more than 25,000 salespeople, for a total of 608,962 salespeople. The number of salespeople decreased by almost 4 percent, and the total revenue totaled just a little more than $2.6 trillion, which is less than a 1 percent increase over the prior year. This represents more than $4.2 million in sales per salesperson and a 4.2 percent increase in productivity, continuing the last two years' productivity gains. The number of service-sector employees declined by more than 1 percent this year, after a gain in the number of service-sector employees last year had reversed two previous years of substantial decline. This year, the total number of service industry employees decreased by more than 82,000.
This year, the top 20 automotive megadealers reported positive numbers across the board. The top 20 firms own 1,380 dealerships (up by about 5 percent), employ 20,700 salespeople (an increase of about 5.1 percent), and produce more than $92 billion in sales (up by a sizable 14.3 percent). This brings the average annual sales per salesperson to $4.4 million (up by more than 8 percent). The productivity registered is a hopeful sign for an automotive industry that continues to struggle.
The top 50 insurance companies show a total sales force of 675,483,
(continued on page 2)
Webinar
It's OK to be Selfish - How to Enable Reps to Succeed


Tuesday, March 18
2 pm ET / 11 am PT


Register Now
Upcoming Event
Workshop: Using Insights to Provide Value to Customers & Win More Deals


May 7, 2014


More Info
Daily Cartoon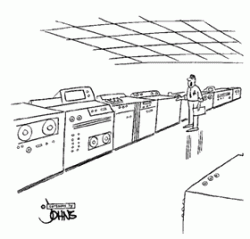 I still say this is a clothes dryer!