/// Daily Quote
"Education is an ornament in prosperity and a refuge in adversity."
-- Aristotle

Selling Power Magazine Article
Smart Selection

Subscribe Now
Selecting and retaining the best sales force requires using the best tools available, especially tools for assessing the aptitude of candidates for sales jobs. Fortunately, major personality assessments have been validated by decades of experience and can be economically administered during the selection process. Other tools can help you tap the wisdom of a candidate's colleagues and supervisors, connect with candidates for future openings, and develop reps' careers after hiring.
Assess Systems provides research-validated talent assessments for sales positions and prioritizes candidates according to their potential for success. The best hiring decisions result from a complete process, including prescreening, realistic job previews, testing, and interviews. Assess designs this thorough process and uses cutting-edge technology to ease its execution.
Assess has researched sales personalities for more than a quarter century, and its approach applies to a variety of sales positions. For example, consultative selling requires certain personality traits and sales knowledge. Assess's SalesMax is a Web-based test designed to evaluate candidates for consultative sales. It measures candidates' knowledge of sales strategy at each step of the sales cycle: prospecting, prequalifying, making a good first impression, probing prospects, presenting solutions, overcoming objections, influencing, and closing.
SalesMax also identifies an individual's motivational needs and how well these match the sales organization. It assesses how much each candidate is motivated by recognition, control, cash, freedom, opportunity to develop expertise, affiliation, security, and achievement.
The Caliper Profile Employee Assessment Tool is an in-depth personality assessment and job-matching instrument validated by nearly 50 years of research. It measures more than 25 important personality traits that determine – or at least heavily influence – performance in professional sales positions. Caliper consultants can use the Assessment Tool for a variety of purposes: helping to select new salespeople, improving the performance of current reps, or reorganizing sales teams.
The Caliper Assessment is highly flexible. It can be taken either online or on paper. In both cases, it provides clear, objective information on a sales candidate's strengths, limitations, motivation, and potential performance in a specific sales role. Through agreements with Pearson and Psychological Assessment Resources, Caliper also offers the Bennett Mechanical Comprehension Test, Self-Directed Search, Watson-Glaser, and the Wesman Personnel Classification Test.
Sophisticated selection-assessment tools not only help to find candidates who will perform adequately in a particular sales role, but they also help to spot recruits who may eventually advance in your sales organization. Caliper finds the candidates who have the potential to go two or three levels beyond their initial sales competencies.
Caliper emphasizes the success of 1) partnerships developed between its consultants and hiring managers, 2) more than four decades of research and refinement of its assessments, and 3) an immense database on the qualities required to succeed in different sales positions.
SkillSurvey offers a suite of products, all on a Web 2.0 platform, to both improve candidate selection using feedback on past performance and extend your company's network of potential candidates for future openings in sales. SkillSurvey's Pre-Hire 360® automatically gathers assessments from each job candidate's previous managers, peers, subordinates, clients, and business partners. It then tabulates and charts the resulting information so that hiring managers can compare candidates using fully rounded performance data.
Through an automated process approved by the candidate, references are surveyed on about 20 behaviors and skills that correlate with success in a particular sales position. References are forthcoming because responding is easy, respondents are released from legal liability, and their responses are not personally identifiable.
SkillSurvey's Passive Candidate Compiler is another great tool for firms that want to think ahead about sales hiring. It is a searchable database of prospective job candidates that increases as you use Pre-Hire 360®. References who complete a Pre-Hire 360® assessment for an active job candidate can signal their interest in learning about other openings in your company as they occur. So your talent pool rapidly expands.
Once you have a sales force in place, PI Worldwide's Selling Skills Assessment ToolTM (SSAT) can quantify the sales skills of all your current salespeople using objective data on 25 aspects of consultative selling divided into five basic areas. SSAT information gives sales managers and executives the data necessary to evaluate sales skills of individual reps, sales teams, and entire sales organizations.
The SSAT is tailored for individual sales positions and major industries. The Web-based assessment can thus very accurately reflect your company's precise needs. Once gaps are identified, you can fill them using PI's sales-training and behavioral-assessment tool, the Predictive Index®, to make sure changes are sustainable.
– Henry Canaday

Today's blog post is by Christopher Cabrera, CEO of Xactly Corporation, the industry leader in sales compensation automation. If your company hasn't been making its numbers and your employees seem disengaged, it's time to examine how to incent them uniquely and appropriately. A big part of building a successful sales team is building a comp plan to suit …
READ THIS BLOG
>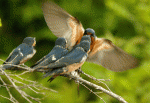 /// Upcoming Event
Sales 2.0 Conference
Monday, March 10
8:00 am
More Info
>