Sales Management Digest
Are You Motivated?
Gerhard Gschwandtner
I have been blessed by the time I've spent conducting interviews with such people as Zig Ziglar and Dr. Norman Vincent Peale. Looking back, I can see how their words have had a positive impact on my life. When it comes to motivation, I immediately recall Zig Ziglar's analogy between the human brain and a computer: "garbage in and garbage out." Top sales trainer Tom Hopkins echoed that idea, saying, "If you don't have it in here [your mind], you can't transmit it out there. The question of motivation boils down to 'How do I access or self-generate the best and most motivating ideas?'"
In the age of social media, we don't often get the privilege of meeting face-to-face with the thought leaders of our time - but we do get to watch them online. Facebook founder Mark Zuckerberg mentioned in an interview that, within the past five years, we've made so many virtual connections, and in the next five years, we'll need to figure out what we can do with these connections.
LinkedIn cofounder Reid Hoffman said that we are moving toward "the networked way" of thinking. We are all connected to the collective intelligence (and I use the word "intelligence" loosely) that appears on our screens. As Web content becomes more abundant and immediately available, our ability to choose what's good, important, constructive, and motivating is limited by our attention span.
Many young salespeople are jazzed about the possibilities of social media, and they love making better connections and hope for more productive conversations with customers. But when they talk with the seasoned salespeople on the team, they often come to the conclusion that they are speaking with people from another planet: "Who is Dr. Peale?" or "Zig what?" Younger team members often have never heard of them. But mention "Gangnam Style," and suddenly we're on the same page.
Here's what interests me most: motivation is all about the high-quality ideas that we allow into our mind. Granted, some ideas are self-generated, but most come from the outside. Zig said that motivation is like eating or bathing – we have to keep up with and take care of our own motivational maintenance.
Another way of looking at motivation is through the lens of the software industry, which has adapted to the philosophy of ongoing improvement. When Adobe improves a program, there's no shiny new box containing a CD to install; the new code is slipped into the old program, and your computer installs the update. Google actually slips the code into its tool, and you learn about the improvement on the fly. Cloud companies have adopted a new philosophy that might be useful to consider when seeking personal motivation: be in a state of "permanent beta," as discussed in Reid Hoffman's book,
The Start-up of You: Adapt to the Future, Invest in Yourself, and Transform Your Career
(Crown Business, 2012).
Nothing is ever finished. Everyone is a work in progress. As Charles De Gaulle said with French flair, "Nothing is ever definitely acquired; everything has to be remade all the time." And so it is with motivation.
Free Webinar
New Ways to Boost Sales Productivity in 2017


Thursday, January 5
1:00 pm ET


REGISTER NOW >
Daily Cartoon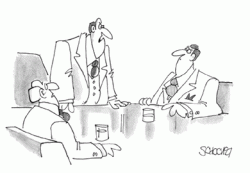 Act your income!