Selling Power Magazine Article
Change That Reaps Revenue Rewards
Selling Power Editors
Such systemic problems create a drag on productivity and effectiveness – both of which hurt the top and bottom lines. Couple these problems with the squeeze of a slow economy, and it's no wonder so many sales leaders have become great at belt tightening. Unfortunately, you can cut costs for only so long.
"I can't think of an industry in which sales leadership isn't having to find ways to improve the sales force in order to achieve the profitable organic growth being asked of them," says Moorman. "At some point, the focus has to be on the revenue-creation side of the equation."
Changing for the Better


For many sales leaders, trying to find ways to transform a sales force in today's selling environment can feel overwhelming, and with good reason: according to Moorman, there are at least 30 core drivers of sales effectiveness. "The sales organization of today is a sophisticated function and arguably one of the most complex functions in any business," he says. "Transforming a sales force is not easy, and it does come with major risks."
In Moorman's experience, many executives are naïve about the level of change that needs to happen in order to reap profitable results. Tweaking your comp plan and setting aside a week for training is not likely to cut it. "Rarely will training and compensation alone achieve anywhere near the impact that executives are seeking," he says.
According to Moorman, some companies are realizing that achieving revenue goals and sustaining profits require a complete overhaul in the way they are reaching and engaging customers. This can feel risky for sales leaders and reps alike, but consider that the price of complacency is an outdated sales force unable to deal with today's tough buyers and competitors.
"The leading practices of professional selling and sales management have evolved more in the last fifteen years than in the prior fifty," says Moorman. "Buyers are becoming less interested in spending time with salespeople who are essentially information providers. They can get that from the Internet.
"Intuition and rough analytics are no longer enough to design, deploy, enable, and manage today's sales forces," adds Moorman. "The science of sales and sales management has become critical to success."
Successful Responses to Today's Challenges


In other words, customers today are a new breed – and their needs are forcing sales leaders to find new ways to optimize sales forces. As Moorman says, "Successful sales transformations can encompass internal changes to structure, processes, people, systems, and culture in order to succeed with today's buyers and maximize return on the sales force investment."
Consider, for instance, the recent sales transformation at a global company that provides technology to improve plastics-molding processes in a variety of industries, including automotive, consumer products, health care, and more. During the course of one year, the company took steps



to learn more about its customers;



to develop new ways to segment customers;



to redesign the sales force;



to strengthen its value propositions;



to redesign sales processes;



to reevaluate salespeople's competencies and skills;



to redesign territories and reassign reps accordingly; and



to align incentives, competency models, hiring, training, coaching, metrics, and reporting.



After launching a staggered rollout that started in North America and moved quickly to Europe, the company started to see promising results on a number of fronts. These included a more intense focus on customer needs and opportunities to create value, better coverage of the most valuable customer and prospect accounts, more successful sales calls, more motivated salespeople, and better focus on performance outcomes. In the first year alone, the transformation resulted in a 13 percent increase in the company's growth rate.
According to Moorman, "the type of performance increase that this company achieved is not unusual. It's likely that at least 10 percent of sales forces out there are in need of a similar
(continued on page 2)
Upcoming Event
Peak Performance Mindset Workshop for Sales Leaders


Tuesday, December 5


More Info
Daily Cartoon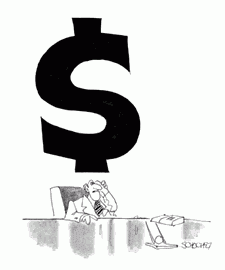 What's my sign?