/// Daily Quote
"A single death is a tragedy, a million deaths is a statistic."
-- Joseph Stalin

Selling Power Magazine Article
Really Big Numbers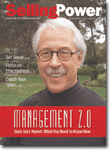 Subscribe Now
It's a numbers thing – selling, that is. It relies on numbers for just about everything. Oh sure, salespeople are supposed to be glib talkers who just love to connect on a human level, but the really impressive sales types are more analysis than talk and more number crunchers than hand shakers. At least, in this new world order of sales, they'd better be.
Salespeople – and, frankly, all businesspeople – now live in a world full of data, and there is plenty more to come. The next revolution is called "big data," and it encompasses all the data from the Web and other novel sources that must be managed and exploited.
Teradata is a $1.9 billion per year company – not small, but hardly a giant in the IT world. But Teradata has been dealing with massive data volumes for a long time, specializing in enterprise data warehouses. Data warehousing collects data in one place, very efficiently. If designed correctly, these warehouses enable business users, including sales execs, to interpret data without going through IT departments. And another Teradata specialty, in-database analytics, means analysis can be done with blinding speed.
These advantages make Teradata essential to many top B2C firms, including online retailers and most major airlines. The data revolution is coming to B2B sales, as both marketers and salespeople can exploit all their company's data on customers, rivals, and its own operations, to maximize profit.
A Number Explosion
Mike Koehler, Teradata's president and CEO, sees two main themes that are shaping his firm's business: "First, data is exploding. There are new types of data from mobile sources and sensors and social media. Traditional data is increasing, too." And International Data Corporation supports Koehler's assertion. It forecasts that the world will generate 50 times more information in 2021 than it does now. That's more than 5,000 percent more bits and bytes to manage, understand, and use.
The big data explosion is already showing up in Teradata's own business. At the end of 2010, the firm had 10 customers with at least one petabyte of data to manage. By the end of 2011, that count had doubled to 20 customers.
Facts and figures aside, business must make a profit on all that data. So the second theme is the need to not just store and manage all these bytes, but to analyze and extract business value from them. "Analytics and business intelligence have always been important, but they are becoming more important," Koehler stresses. "That need is accelerating."
Since its spin-off from technology company NCR in 2007, Teradata has been investing in four key areas. The first is consulting. "We wanted to make our consulting organization broader and deeper," Koehler explains. Teradata has increased its consultants by 63 percent and now has the largest consulting organization devoted to data warehousing in the world.
Customer Teams
The second investment is in customer teams. Since the spin-off, these teams have grown by 39 percent.
In addition and most important, Teradata sought to increase its own research and development (R&D). The company has boosted R&D spend by more than 33 percent.
Another key area of investment for Teradata is expanding partnerships with firms that help design data systems and extract value from data. These partners, which can also help Teradata penetrate new markets, have increased by 50 percent.
Some especially important partners have been brought in through acquisitions: Aster Data, which specializes in analytics for big data, the unstructured data from social media and other sources that do not easily fit in traditional data warehouses; and the acquisition of Aprimo's integrated marketing management, a tool that is scalable for any size company and supports marketing and sales. "We now have two huge opportunities to add value," Koehler explains.
Koehler says Teradata will continue to invest in all these areas, but he is seeking, not to grow into a gigantic firm, but only to help clients with gigantic data challenges. He makes it clear that "[Teradata's] number one objective is not to be the biggest IT provider, but to be the best IT provider."
Robert Fair, executive vice president for global field operations at Teradata, leads more than 5,000 worldwide salespeople and consultants. "Independence from NCR allowed Teradata to make its own investment decisions as a more focused, aggressive, and successful business," Fair stresses.
Exponential Growth

Independence has paid off on the top line. Revenue is up 30 percent since the spin-off. Teradata increased sales by 13 percent in 2010 and about 20 percent in 2011, compared with single-digit growth as a unit of NCR. "Investments have allowed us to move into spaces adjacent to our stronghold in data warehousing, that is, big data analytics and integrated marketing management," Fair notes.
Teradata has expanded into new markets and smaller firms than it used to serve. The company has doubled its customer base since 2007. Investors liked that growth, sending Teradata stock up 250 percent, even in the troubled markets of 2009 to 2011.
The data deluge is already pounding ashore. According to The Gartner Group, enterprise data will grow 650 percent in just the next three years. "This data will increasingly come from nontraditional sources, such as Web logs and sensors that require new types of analysis and technology," Fair
(continued on page 2)
– Henry Canaday
Selling Power Classics
Get Your FREE Issue of Selling Power
/// Upcoming Webinar
New Insights on Helping Sales Reps Meet or Exceed Quota
Wednesday, May 22
1 pm ET / 10 am PT
Register Now
>