/// Daily Quote
"A common danger unites even the bitterest enemies."
-- Aristotle

Selling Power Magazine Article
Focus on Sales Effectiveness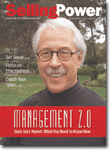 Subscribe Now
Although companies have spent billions worldwide and invested decades of work to provide and encourage adoption of sales force automation (SFA) systems, sales teams remain reluctant to use these tools to their fullest capacity. These tools were designed to track sales rep behavior, rather than to provide salespeople with tools that help them sell. The challenge for companies is to break through the conceptual model of SFA as a form of automation and instead treat technology as a vehicle to help teams collaborate and work more efficiently in order to better satisfy customer needs.
LOW ADOPTION RATES

The original idea behind SFA was to apply the principles of factory automation to a sales environment and thereby make selling repeatable and standardized. In such a world, reps would follow a standard set of behaviors at each stage of the sales process, with the system monitoring each step in the same way that a factory automation system monitors the steps in a manufacturing line.
This conceptual model allows sales managers to track sales through the pipeline, make better forecasts, and intervene as necessary when opportunities become stalled. It also allows sales managers to better understand and communicate to top management the actual performance of the sales team.
Unfortunately, SFA tends to force companies to view customer engagements through the lens of a selling process that may not match how customers want to buy. The primary focus of SFA implementations has been to provide managers with a reporting tool, rather than a tool to help the sales team sell.
Because of this, sales teams typically see SFA as something being imposed on them, resulting in low adoption rates. Sales teams' resistance to SFA is so determined, in fact, that some SFA consultants recommend withholding compensation to sales personnel who fail to comply with its use. The fact that such strong-arm tactics are considered necessary is a testament to how badly SFA has missed the mark from a sales-team perspective.
A FLAWED CONCEPT

While the original concept of SFA may seem logical to management, salespeople may see it as clearly flawed, but not because sales teams are technophobes. Quite the contrary. Sales teams are usually quick to adopt new technology (e.g., email, smartphones, tablets) if they believe that the new technology will help them sell.
Sales teams are ready to learn and use tools that will help them remain successful in the face of an uncertain economy and increased global competition. That's not surprising, considering that today's sales teams face huge challenges but still must be able to accomplish tasks that are necessary to successful selling:
• communicating quickly with company experts to develop opportunities;
• working with a dispersed sales team to close business quicker;
• keeping a variety of customer stakeholders informed before and after the sale;
• building customer loyalty, customer satisfaction, and long-term relationships.
Today, developing and closing a sales opportunity requires research, planning, and preparation. It also requires the ability to harness the collective knowledge of the entire company and quickly adapt sales and marketing materials to individual customers so that every customer conversation is personalized and meaningful.
Because every opportunity is different, selling in today's business environments also requires an ability to share and replicate a firm's best practices, tap into the "tribal knowledge" of the sales team, and find the right internal expert for a given customer's needs. The traditional conceptual framework of SFA, which treats selling as a form of factory labor, addresses none of these challenges. Something more is needed.
FOCUS ON SALES EFFECTIVENESS

Fortunately, a few leading companies are implementing systems that go far beyond the original concept of SFA, creating collaborative environments and embracing new mobile technologies, such as tablets and smartphones. At the same time, they're integrating these mobile systems with corporate back-end processes, such as enterprise resource planning. The result is a new model for sales technology that emphasizes sales effectiveness, rather than sales automation.
A prime example of this trend is SAP Sales OnDemand. It's designed specifically for sales professionals, to help them sell more effectively with an intuitive, easy-to-use solution. It allows sales professionals to set up "collaboration spaces" where salespeople, in-house experts, and even customers can work together effectively in the context of each opportunity, to better meet customer expectations while accelerating sales cycles. SAP Sales OnDemand also allows sales professionals to access social customer intelligence and easily and cost-effectively receive sales-critical account information coming from enterprise systems, such as financials, order management, customer service, and marketing. "SAP Sales OnDemand provides a complete view of the entire sales opportunity and relationship in a way that sales professionals find very easy to use," explains Dave Spencer, SAP's national vice president of sales, Cloud Direct Americas.
This new kind of sales technology increases sales effectiveness in several ways. First, the ability to create collaborative sales and support teams helps sales professionals better utilize their own firm's internal resources in order to close business and keep customers happy. Second, the sales team's ability to cost-effectively receive key transactional data, such
(continued on page 2)
– Geoffrey James
Selling Power Classics
Get Your FREE Issue of Selling Power
/// Upcoming Webinar
Sales Coaching for Improved Performance
Thursday, May 23
2 pm ET / 11 am PT
Register Now
>