Selling Power Magazine Article
Big Change at Big Pharma
Heather Baldwin
Today the pharmaceutical sales environment may be a pressure cooker, where a stringent regulatory environment means reps must watch every word they say – and a single slip can result in multimillion-dollar fines. Doctors may be more tightly scheduled than ever before, leaving reps only minutes to share information with providers. And whereas once doctors pulled all the strings when it came to prescribing, now they are just one piece of a puzzle that also includes insurance providers and healthcare policy makers.
But wait, there's more – or perhaps we should say there's less, as in fewer field reps to handle the workload. Pfizer took over King Pharmaceuticals in February of this year, a move which could lead to further shrinkage in the numbers. Still, although these realities aren't lost on those in the profession, several of whom told Selling Power they feel they are always just a conference call away from being out of work, we say there is a positive side. Chris Morgan, a London-based principal with ZS Associates, summed things up in his report, "Finding the Focus: Designing the Pharmaceutical Selling Organisation for the 21st Century": "Today's sales environment only faintly resembles the environment of just a few years ago," he observed. "The pharmaceutical industry has new customers with new agendas, increased pricing and prescribing pressures, and maturing product portfolios. The linear, high-frequency sales approach that worked extremely well for years is becoming obsolescent amid the massive changes in the healthcare environment."
In other words, pharma sales, like everything else in the business world, has changed. If you don't manage the change, you'll be out in the cold. So the positive news is that you have the power to manage the change.
From High Frequency to High Value
That "linear, high-frequency sales approach" is often referred to by industry insiders as the "arms race" of the late 1990s and early 2000s. Fueled by a multiyear wave of blockbuster product launches, pharma was then undergoing a period of massive growth, and the sales strategy of the day was all about getting more reps into the field than your competitors. Back then, it was common practice for a single high-value doctor to be called on by five or more reps from one company, each responsible for selling just a few products. An-alysis showed that this practice actually worked: Pharmaceutical companies could draw a direct correlation between share of market and share of voice. So they kept turning up the volume.
Fast forward to today. With far fewer blockbuster launches, regulatory guidelines severely restricting interactions between doctors and drug companies, and doctors' prescribing choices now heavily influenced by the insurance industry, sales reps no longer wield the same influence over prescribing practices as they once did. As a result, the share-of-voice model is starting to look awfully bloated and inefficient.
"We are in an interesting place today," observes George Schmidt, senior vice president and practice area leader for the sales practice at Campbell Alliance, a specialized management consulting firm serving the pharmaceutical and biotech industries. "We have entered a period in which companies are customizing their promotional efforts depending on customer types and the needs of physicians."
In other words, pharmaceutical companies have come to understand that not all calls are created equal, says Schmidt. Today they are trying to figure out which calls are, as
1984
author George Orwell put it, "more equal than others." They are finding that the answer lies in a combination of changing the way they deploy their field force and implementing new technologies that make calls on physicians more efficient, more effective, and more precisely targeted than ever before.
Customizing Deployment
Leading pharma firms seeking a more efficient sales model than share of voice understand it's not enough to do a simple blanket reduction in their field force. Instead, they have begun employing a "differentially resourced" deployment model that aligns
(continued on page 2)
Webinar
The New Rules of Selling


Wednesday, October 15
1 pm ET / 10 am PT


Register Now
Upcoming Event
Sales 2.0 Conference


September 18, 2014


More Info
Daily Cartoon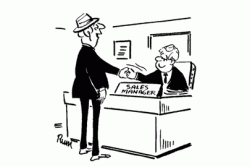 I've heard several rumors that you're setting the quotas too high - keep up the good work.