Selling Power Magazine Article
Worldwide Prospects
Robert McGarvey
"They thought it would be easy," says Dave Mattson, CEO of sales-training company Sandler Systems. "Large American companies thought selling globally would be simple and that they would save money by gaining efficiencies. It's not working out exactly that way."
Mattson elaborated that companies that have started selling globally within the last decade – typically to tap into the mounting wealth in the developing world (in Brazil, China, etc.) and better serve the new breed of thoroughly global business – have, in fact, often experienced benefits. But they also have encountered epidemic problems across a range of areas: "On the people side, with processes, even with rollouts of tools, there can be surprising problems when a company goes global," says Mattson.
That said, businesses have learned an immense amount since the first wave of globalization swept American industry a generation ago. And they are doing all this much, much better than, if also differently from, when they started.
There also are powerful reasons to persist with a global strategy despite bumps in the road. Says Jim Haudan, CEO of training company Root Learning, "[By going global], companies have the chance to better understand global issues, allowing them the opportunity to be relevant to the three strategic focuses that drive business today: cost reduction, organic and innovative growth, and expansion into emerging markets."
In many ways, going global is no longer a choice, even for small and midsize companies. "We have to sell globally; our customers demand it," says Andrew Rubin, CEO of Cymtec Systems, a small St. Louis-based developer of network-optimization and compliance tools. What Cymtec sells are solutions that help multinationals get more visibility into their far-flung computer networks, but those clients, by definition, are global. And they expect their vendors to be, says Rubin.
"Every key account today is global; that is fact, and it has changed how we sell," says Modesto Casas, president of sales-consulting firm In Region. "The buyer is in New York, the recommender is in Bangalore, the user is in Kuala Lumpur – and the seller has to deal with all of them."
Exactly what lessons are companies learning, and how are they better selling globally? Sales leaders from a sampling of businesses are ready with illuminating anecdotes that reveal their lessons learned and challenges faced, and – always – there is acknowledgement of the immensity of the opportunity presented by selling not just to one country, but to the planet.
Learning to Listen
Call this the loudest lesson preached by many global sales teams, especially at small and midsize companies: "Local feet on the street – that is what you need to succeed in selling internationally. You are fooling yourself if you think everything can come out of corporate," says Scott Calvert, vice president of sales at CodeBaby, a company that helps companies put conversations and interactivity on their Websites.
He adds that the how-to, the mechanics, of selling vary enormously from country to country. "In Australia, our sales come out of face-to-face meetings. In the United States, we close many deals on the phone."
At Lingo24, a translation service for corporate clients with offices in Scotland, England, the United States, Panama, and Romania, company director Christian Arno says, "We do what fits the culture. That's what you have to do when selling internationally."
Some countries – Germany and Japan, for instance – value deliberate relationship building before the sale. Other countries – notably the United States – can dive in with little prelude.
"For us, it is very important to hire locally. We want sales reps who understand the local markets and the local community," says Arturo Cazares, senior vice president of sales at Silver Peak, a data center optimization company with offices in Brazil, Hong Kong, Singapore, Australia, Japan, Germany, and the United Kingdom, in addition to the United States. The advantage involved in bringing these reps on board: They come with deep personal networks that can speed up acceptance of a company that perhaps the locals have not heard of before. Cazares
(continued on page 2)
Webinar
Using Gamification to Drive Sales Team Performance


Wednesday, December 3
2 pm ET / 11 am PT


Register Now
Upcoming Event
Sales 2.0 Conference


Monday, March 16


More Info
Daily Cartoon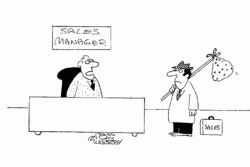 Come now, Thurston - you didn't think frequent flyer miles would last forever...did you?