Selling Power Magazine Article
Sales Up!
Lain Chroust Ehmann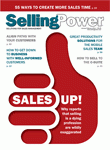 Subscribe Now
In September 2010, Slate.com published an article by one James Ledbetter quoting statistics that he claimed suggested that the world no longer needs salespeople. Of course he referenced the biggest sales loser who never actually walked the planet, Willy Loman, and his eventual demise. All we can say is…good grief. One more such tired, misdirected reference to a fictional concept, and we should all heave a large rock at whoever utters it. Let's get one thing straight: Willy Loman was not real. And to continue to use "him" to discuss professional sales is like using Walt Disney's Uncle Scrooge to exemplify the banking industry. The article went on to say that sales is a dying profession and soon will be as outmoded as oil lamps and the rotary phone. Really?
The assumption that technology, especially the Internet, will replace person-to-person buying and selling is as ridiculous a prediction as the ones that had television replacing radio. Has selling changed? Of course. Is the Fuller Brush Man gone for good. Absolutely. But when it comes to B2B sales, the profession is only going to become more valuable and more professional in the future. While it's true that a lot of retail sales jobs, including car sales, have been replaced by the Internet and eliminated by dealership closings, even a cursory glance at the Selling Power 500 reveals that professional sales is alive and well.
Selling Power
magazine invited a handful of sales professionals and experts to weigh in on the future of B2B sales. Their comments just might surprise – and inspire – you.
The Sales Managers
John Sutton, VP of sales and marketing, Sendside
(send side.net). With more than 10 years in the sales industry at start-ups and established B2B companies, Sutton has a wealth of knowledge about sales management and the evolving needs of frontline salespeople.
Chris Cowan, senior VP of sales and business development, LOYAL3
(loyal3.com). Cowan bases his belief that the basics of sales will always prevail on his two-plus decades leading large-business development teams for top-notch financial services organizations, including American Express.
The Experts
Troy Harrison, author of
Sell Like You Mean It! (SalesForce Solutions, 2006)
and president of SalesForce Solutions
(salesforcesolutions.net). Harrison has shared his expertise with a wide range of B2B sales groups, from start-ups to Fortune 200 organizations, helping them with sales development and refinement. He helps companies establish and develop winning sales teams.
Steve Kloyda, "The Prospecting Expert"
(theprospect ingexpertblog.com). With more than a quarter million sales phone calls under his belt, Kloyda is an expert on the sales process. After analyzing more than 25,000 sales calls, Kloyda has firsthand knowledge of what works and what doesn't and how the sales process has changed.
The Academic
Chris Westfall, instructor, Texas Christian University and the Business Leadership Center at Southern Methodist University Cox School of Business
. With his extensive background as a B2B salesman and manager, Westfall offers his MBA and leadership students a sales-savvy perspective on business.
Question One: Is B2B selling dead?
The panel's answer was unanimous: Things may look a lot different – and will indeed continue to change – but professional sales careers promise to be around for some time to come.
Our panel agreed that the sales profession will continue to evolve, but the role of the salesperson is a vital one to the organization as a whole. Said Chris Cowan, "One-off sales can certainly take place without the need for a salesperson; however, in a B2B environment, where companies typically have a unique set of needs, you need a salesperson to uncover those needs and help the customer understand why your company is the best equipped to meet those needs."
Sales is still critical to business longevity, agreed Steve Kloyda. Someone must define the company's value proposition and unique message and communicate it to the market, and that person is the sales rep. What is dying, though, is the account-maintenance role – what Troy Harrison calls "the order taker."
"Those people – the ones who stop by the office on Friday with a box of donuts and say, 'Hey, got anything for me?' – they are making themselves very replaceable," said Harrison. "They're not adding any value to the process." As a result, their function can easily be replaced by automation. Who will have job security? Those who excel at new-customer acquisition, relationship management, and account growth with existing customers.
Question Two: How is the (continued on page 2)
Webinar
The New Rules of Selling


Wednesday, October 15
1 pm ET / 10 am PT


Register Now
Upcoming Event
Sales 2.0 Conference


September 18, 2014


More Info
Daily Cartoon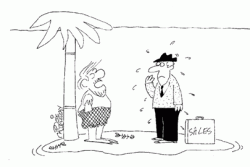 Leave me your card and I'll get back to you.