Selling Power Magazine Article
Can-Do Guru
Lisa Gschwandtner
North America: by not being afraid to let a few fish wriggle off the hook.
"I want to know who people are," Keller says. "I want to understand why we're talking. What is it that I can do to help them today? I realized early on that I didn't need to worry about whether they did business with me or not. I needed to help them make a good decision. If, at the end of the conversation, they didn't need to buy a home or, later in my life, get into real estate, or later, buy one of our franchises, then I didn't want them to do it. They never needed to do it. I never needed to worry about me. I just needed to worry about them."
The philosophy has taken Keller far from his roots in Houston, TX, where he got into so much trouble growing up that his parents were "terrified that I wouldn't turn out to be anything." Eventually he would start a revolution in the real estate industry by offering his real estate agents the chance to become business partners through an exclusive profit-sharing program. In addition to traditional commission earnings, Keller Williams Realty agents receive a percentage of the profit guaranteed by their recruits, and their recruits' recruits, up to seven levels. In 2005, Keller Williams posted $2 billion in total commissions earned. Last year, that number broke $2.5 billion, and the company shared a profit of more than $52 million with its agents. The company keeps growing as more agents jump on the Keller Williams bandwagon. As of this year, more than 75,000 agents are fulfilling the Keller Williams vision of "building careers worth having, business worth owning, and lives worth living."
"One of the mysteries of life is why did that person get what they got and why the other person didn't," Keller says. "I realized that the answer to that is kind of a twist on the phrase, 'If it's to be, it's up to me.' I added an extra line to that. I said, 'If it's to be, why not me?'
"If you say, 'I want it to be me,' odds are, it will probably end up being you, if you stick with that and don't give up."
The Magic Touch
Of course, Keller understands all too well what he calls "the pressure of the sale." In fact, when he first got into real estate sales, he had no idea it was a commission job – despite the fact that he had just earned a degree in the subject from Baylor University.
"At my first interview, at the end, the sales manager leans back – I can still see him doing this – he leans back, and says, 'Well now, Gary, how much would you like to make your first year in sales?' This was 1979. And back then, we were being told that $18,000 to $22,000 a year would be a great first-year income for someone in a typical sales job. So, I told the man, 'I would like to make at least $18,000 my first year.' And the guy stood up, stuck out his hand, and said, 'Well, good luck, I hope you make it. It will cost you $1,000 to get into the business.' And here I am, 21 years old, and I think I am negotiating salary like I've been taught in business school, only to discover it is a 100 percent commission job. I remember driving back in my little Volkswagen Beetle to Waco. I got on the phone with my father and said, 'Did you know that this is a 100 percent commission job? This is nuts.'"
Keller borrowed $1,000 from
(continued on page 2)
Upcoming Event
Sales 3.0 Conference


Monday, December 4


More Info
Daily Cartoon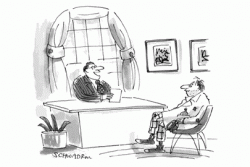 You are correct in that regard - we did advertise for someone with 'street smarts,' Mr. Brandywine.