/// Daily Quote
"Go fast and with great pride."
-- Unknown

Previous Cover Story
The 50 Best Companies to Sell for Now

Subscribe Now
For the twelfth year, the corporate research team at Selling Power has identified and ranked the best companies to sell for among the largest sales forces in the United States.
Our focus primarily remains on companies with sales forces of 500 or more salespeople. An extensive questionnaire was sent to top sales executives, training managers, and human resources managers to request key data important to prospective employees looking to enter the sales profession. In addition, independent research added to the information database.
Each year we examine the data, focusing on three key categories: compensation, training, and career mobility. Companies that are unable to verify vital details within each category are excluded from the ranking.
Within the category of compensation, the corporate research team looks at average starting salaries, incentive pay plans, availability of company cars, and other benefit packages, such as health and wellness.
In the area of training, we examine the time companies invest in both initial selling-skills training and product knowledge training programs. To assess the issues of career mobility, we look at such essential details as frequency of performance reviews, turnover in the sales force, and the number of people promoted from the sales ranks each year.
Next, all information is compiled, analyzed, and scored in order to maintain complete confidentiality for each company's data. Each company is given an overall score in the three categories and compared in two general industries: manufacturing and service. Selling Power ranks the top 25 manufacturing companies and the top 25 service companies to complete our list of the top 50 companies to sell for now.
The 50 Best Companies to Sell for Now list represents a wide variety of subindustries, including software/systems, food/beverage, health, construction, information/communications, hospitality, transportation, and financial services.
As expected, our detailed rating system placed the top companies extremely close, with 23 manufacturing companies and 21 service companies tied with other companies in the rankings. In these instances, the companies were placed in alphabetical order.
The ranking spread remained fairly consistent in both the manufacturing and service industries when compared to last year. Anyone entering the sales field should begin his or her effort by taking a good look at these top companies.
– Selling Power Editors

Today's blog post is by Dan McDade, author of The Truth About Leads. Recently, over a cup of coffee, Dan Waldschmidt (Waldschmidt Partners) and I talked about the herd mentality that causes many well-intentioned businesspeople to follow the crowd blindly - often in the wrong direction - based on one so-called expert or another proclaiming that "cold calling …
READ THIS BLOG
>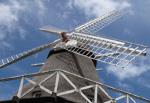 /// Upcoming Event
Sales 2.0 Conference
Monday, May 5
8:00 am
More Info
>