Selling Power Magazine Article
Four Tips to Close with Confidence
Selling Power Editors

Subscribe Now
Closing represents a natural conclusion to a well-handled sales process, yet many salespeople view it as an anxiety-laden moment of truth. When nerves sap your confidence, your sales may pay the price. Use these four tips to help you anticipate closing as a logical and achievable step in the selling sequence.
1. Your closing attitude affects your performance. If you face a close with excessive nervousness or dread, you'll probably have to struggle to conceal your emotions – possibly jeopardizing the sale. Resolve to change your attitude by viewing your close as a golden opportunity. Enjoy the chance it offers you to exert a positive influence.
2. Closing begins with the first step of the sales cycle. Consider closing's role throughout the selling cycle, instead of regarding it as a separate event tacked on to the end of a presentation or appointment. Closing actually begins with your initial contact with the prospect, so don't associate it exclusively with the end of the sales cycle.
3. A successful sale requires many preliminary closes. If your prospect is prepared to make a buying decision, you already must have closed successfully on a whole host of decisions, e.g., setting the call, agreeing on strategy and goals, etc. Remember these successful preliminary closes to help boost your confidence when it's time to ask for the order.
4. A successful close naturally follows a well-planned presentation. The close simply represents the last logical step in a long sequence of carefully planned and executed events. Look forward to it as the exciting and long-awaited payoff.
Webinar
The End of Sales as We Know It


Tuesday, August 5
1 pm ET / 10 am PT


Register Now
Upcoming Event
Workshop: Using Insights to Provide Value to Customers & Win More Deals


July 15, 2014


More Info
Daily Cartoon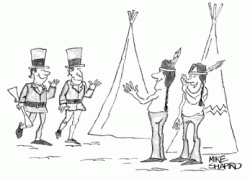 Remember, push the corn.