/// Daily Quote
"Procrastination is opportunity's natural assassin."
-- Victor Kiam

Selling Power Magazine Article
The New Reality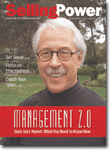 Subscribe Now
Things ain't what they used to be. And this oft-used phrase has never seemed more apt than it is for sales leaders today. Following the downward financial spiral of 2008 through 2009, the sales profession has been coming to grips with a new reality. No longer viewed as a crisis to simply get through, the tougher sales environment is being accepted now as the way forward for sellers in every industry, in every corner of the globe.
From smaller budgets (for both buyers and sellers) and smaller sales teams to busier prospects and longer buying cycles, sales teams are having to do more with less – and do it better than ever before. So how have managers adjusted their sales strategies to succeed in this environment? We talked to several sales managers to find out what is working for them and how things are different today. In short, "better" is the prescription of the day. With no room for error, everything from the initial call to the final close is being tightened up and improved.
Better Processes

There certainly has been room for improvement. From 2005 to mid-2007, closing sales was a bit like shooting fish in a barrel, said the managers with whom we spoke. "If you could establish a need, you knew the prospect could find a budget," says John Rogers, healthcare area manager for Gartner. As a result, he says, "you could get away with mistakes." You could skip a step in the sales process, he recalls. Or you could ask about the buying process but not have to dig too deeply into it; there was always money available if the prospect really wanted your product or service.
As those funds dried up, the little errors and missed steps got expensive. For instance, reps who failed to gain a deep understanding of the buying process often discovered – too late – that there was no budget or that they'd been building a relationship with the wrong person. As closing metrics started moving in the wrong direction, Rogers realized he needed to make a change.
His aha moment came while reading
The Checklist Manifesto: How to Get Things Right
(Metropolitan Books, 2009), a book by Dr. Atul Gawande that makes a compelling argument for the use of checklists to help people in all industries do things better and avoid mistakes in today's era of abundant information and complexity. Leveraging Dr. Gawande's research and insight, Rogers created a very strict process for selling and forecasting. The process goes into deep detail, ensuring that salespeople are taking the right steps, asking the right questions, and talking to the right people from beginning to end. Deals get rolled into the forecast only if there are check marks in all the right boxes.
Sure, it sounds basic. But like many of the doctors in Dr. Gawande's book, salespeople realized they were missing steps in the sales process once they began following Rogers's process. "It also really helped us realize we needed to do a better job at the beginning of the sale, and we needed a larger pipeline," says Rogers. As reps began tightening their processes and adhering to the checklist, results improved: Rogers drove more than $1 million in growth and was $595,000 net positive in the second quarter of 2011, up from $450,000 in growth and $125,000 net in the second quarter of 2010.
Better Listening and Connecting

So much of managers' success today is the result of getting back to basics. When prospects' coffers are flush, those basics can slip without much impact on results. "In the good times, everyone had an interest and a budget," says Keith Brodhead Jr., managing director of enterprise sales at Xignite Inc., a provider of on-demand financial market data. "Today, we have to make more calls to better qualify and better understand what clients want. We really have to listen to build the case for how we can help."
Improved listening and questioning skills have been a centerpiece of Xignite's sales strategy coming out of the economic downturn. Brodhead remembers that, as the market was scraping bottom, "the CEO stepped up and said, 'We're not winning deals, and we're not in budgets. Let's take a step back and better understand what customers want, how they want it, and why they want it.'" He simultaneously pushed for salespeople to have more strategic, higher-level business conversations that would position Xignite as a trusted advisor, rather than as simply another vendor.
In response, Xignite salespeople began doing extensive research about the organizations and the people they were calling on. They asked better, more strategic questions and sought to thoroughly understand their prospects' needs and planned usage of Xignite data. The result: Xignite posted a couple of big wins in 2010 that positioned it for further growth in 2011.
"Budgets are still constrained, and it's still hard to sell," observes Brodhead. But by asking better questions, listening fully to the answers, and patiently working to establish itself in a trusted-advisor role, the Xignite team is finding that doors are opening and prospects are willing to talk.
This ability to listen and become trusted advisors is helping many sales teams set themselves apart at a time when prospects are on information overload. "Clients have a lot of choices today. They are bombarded with messages. They open their laptops and there are fifty to one hundred emails, e-books, Webinar invitations, white papers, and more," observes David Ruiz, sales manager at Nagnoi, business performance
(continued on page 2)
– Heather Baldwin
Selling Power Classics
Get Your FREE Issue of Selling Power
/// Upcoming Webinar
Deal or No Deal: Close More Deals For Higher Profit
Wednesday, June 12
3 pm ET / 12 pm PT
Register Now
>