/// Daily Quote
"The price of greatness is responsibility."
-- Winston Churchill

Selling Power Magazine Article
Manufacturing Sales Success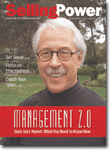 Subscribe Now
As with almost every other industry, the manufacturing business changed following the economic downturn of late. With costs scrutinized at every level and engineering staff pared to the bone, buyers are not only savvier about the products and services available to fill their needs, they are more conscious of how purchases fit into the company's overall economic strategy. "Brutal" is what some sales managers have called the new sales environment. Yet there are breaks in the clouds.
When customers change, sellers must change along with them, as David Warns knows very well. Warns is vice president of sales for Standard Register Industrial (SRI), the business unit of Standard Register that sells printed production parts, including technical literature, as well as warning and decorative labels for manufactured materials. His sales force of roughly 50 people covers all of North America. Warns says that in response to the postrecession sales climate, his team has changed the way it sells in the following ways.
1. Total cost of ownership versus line-item prices.
The tough economy has put pressure on buyers to reduce costs. As a result, SRI has elevated its sales conversations from simply quoting the lowest price to high-level business conversations that explore total cost of ownership. "We have a documented process in which we analyze cycle time, productivity of personnel, and many other areas that go beyond whether our products are least expensive," says Warns.
To help reps build the knowledge required to deeply understand customers and converse meaningfully with them, Standard Register segmented its sales reps so that they are experts on the specific industry to which they sell. "We used to have generalists who sold to everyone," remembers Warns. Now the company deploys sales teams focused exclusively on health care, finance, and other areas of specialty. Warns's team sells exclusively to industrial manufacturers, enabling reps to become experts in that space.
2. Selling beyond the sale.
SRI has learned the hard way that a closed deal doesn't necessarily mean money in the door. "Our sales force must sell the business, then push forward and help the customer implement the solution, which is where we realize our revenues," Warns explains. With engineering resources stretched thin today, customers don't always have the resources to implement the specific changes needed for a midmodel change from a current supplier to SRI. To address this challenge, SRI established a supporting technical team to partner with customers and help them with the implementation process. SRI sales reps oversee the process at a high level, ensuring that the sale is implemented and expected revenue is realized.
3. Shifting from "farming" to "hunting."
Immediately following the recession, Warns says the manufacturing sector bounced back, and SRI sales reps saw a boost in sales results by focusing on existing customers. In early to mid-2011, however, manufacturing activity began to level off, and reps had to shift their strategy from managing current accounts to acquiring new ones. To enable that shift, Warns first modified quota expectations, putting more emphasis on new client sales. He then beefed up customer care so that reps could off-load many of their account-management requirements, freeing up more time to pursue new accounts. Finally, he changed the profile for new hires, seeking those with strong "hunting" skills.
The three-pronged strategy worked quickly. SRI sold more new business in the fourth quarter of 2011 than it sold in all of 2010, and Warns credits those three changes as being the key drivers of success. What's his outlook for 2012? "I don't see us changing from this direction," he concludes. "We expect manufacturing to continue to face some strong headwinds, so we will continue to be an acquisition sales force."
COMPANY STATS

Based in Dayton, OH, Standard Register Industrial (SRI) is a printed production parts supplier for multisite manufacturers, particularly in the areas of functional and decorative labels, technical literature, and in-mold labeling. Its solutions are designed to help manufacturers realize efficiency through the removal of waste from the manufacturing process, improve compliance through reduced risk of product liability claims, and boost aesthetic appeal through the latest product-decoration technology. SRI is a business unit of Standard Register, a leader in the management and execution of mission-critical communications.
In all, Standard Register employs about 379 sales professionals, with 50 in its industrial unit. David Warns, SRI's vice president of sales, is a West Point graduate who served in the US Army on active duty before beginning his sales career. Warns has been in the sales profession for 16 years, always in an industrial, manufacturing-related environment. He joined SRI in 2010.
– Heather Baldwin
Selling Power Classics
Get Your FREE Issue of Selling Power
/// Upcoming Webinar
Deal or No Deal: Close More Deals For Higher Profit
Wednesday, June 12
3 pm ET / 12 pm PT
Register Now
>