/// Daily Quote
"Education is an ornament in prosperity and a refuge in adversity."
-- Aristotle

Selling Power Magazine Article
The Evolution of Sales Operations

Subscribe Now
Some day, every VP of sales and sales manager in every industry in every company will have the time to wade through the mass of details and get to the big sales picture. Well, hello, Cinderella. And someday your prince will come. The trouble is, someday never does come.
"People in sales often say, 'When things calm down, I'm going to take a look at all that,'" says Price Burlington, director of field operations for SAP America. "But they're so busy with the ongoing pressure of meeting quotas that they let the big-picture stuff drop."
Thus, the arrival of the sales operation manager, an umbrella position for overseeing all the functions of sales management, including technology adoption, revenue growth, and process efficiency. The sales ops manager supports the VP of sales, handling all those things the VP planned to get to on that calm, stress-free, mythical day in the future.
Sales ops managers have been around since the 1980s, but the position has really exploded in the last five years due to two factors: the increasing sophistication of technology and the economic downturn. A recent report by IDC showed that 1) more leads are needed now to close a deal, 2) 72 percent of companies have seen an increase in the buying cycle, and 3) the rise in sales costs is outpacing revenue growth. It's no secret that sales departments are under pressure to do more with less, and using technology effectively is a large part of how they hope to do this. But which technology? How will it be implemented and standardized, and how will the effects be measured?
The sales ops manager spends 100 percent of his or her time focused on these big-picture issues. As companies become more global and more technologically sophisticated, the sales ops manager will undoubtedly become an even more pivotal part of the picture.
How Sales Operations Has Evolved
"Twenty years ago, the VP of sales would look to sales ops primarily to crunch numbers," says Barry Trailer, managing partner of CSO Insights. "Sales ops might, for example, have forecast travel expenses or monitored how well sales were doing versus projected estimates. But from these humble beginnings, the role has evolved. Now the VP of sales looks to the sales ops manager, not just to give the numbers, but to help interpret research."
"New companies at first are in pure growth mode," says Burlington, "and then they suddenly get to the point where sales is no longer just about the numbers. They realize they need to streamline their processes, put a CRM system in place, figure out a better way to pay people. There's also a move toward centralizing functions. Whereas at one time HR might've handled certain issues and accounting others, growing companies get to the point at which there's overlap between what all these different departments are doing. It becomes clear it would be more efficient to have one central team, sales operations, overseeing these functions and serving as the glue to bind it all together."
Burlington sees this centralization of functions as an important part of efficiency. "Everyone is concerned with driving revenue," he says, "which often comes down to finding a way to improve productivity without hiring more salespeople. The question has become, how do we make the sales process more efficient without just adding more bodies? The second major problem is that the actual selling process has become more complex, requiring a wider spectrum of technology. We have different kinds of sales specialists all over the world trying to work together, and the process is harder to monitor."
It's a double whammy: fewer salespeople in the field and those already- pressured few being overwhelmed by the technology and information-processing aspects of their jobs. Enter sales ops on a white horse to save the day. "Sales ops concentrates on all these behind-the-scenes things, like simplifying processes, setting territories, evaluating compensation, and making sales and marketing align more efficiently," says Burlington. "That way, our salespeople and sales managers can spend time in the field generating revenue."
The domain of sales ops varies on a company-by-company basis. John Hieb, worldwide sales operations manager at Maxim, says the position "was developed [at Maxim] strictly based on the needs of the VP of sales." Hieb continues, "He considered my predecessor his right-hand man and wanted him to do audits and research. The position turned into a formal group when we started looking at CRM tools, and as we've taken on more responsibilities, largely tied to data and processes, the group has grown to fifteen people."
Hieb sits on a lot of committees in order to "pull together the pieces." He explains, "Let's say we want to goal our people differently. I need to be there to confirm the system can do this. In the process of attending so many meetings, we develop an understanding about how each group works within itself and relates to each other."
The Invisible Position
Sales operations managers may be known by many titles – director of field operations, operations analyst, director of sales ops, manager of global sales operations – and the people who hold these positions may have come to them in various ways. There is no direct career path to become a sales ops manager; we spoke to people who had moved from finance, sales, analysis, or marketing to take the role. Since, as Trailer says, "the sales ops manager has fingers in many pies," it's nearly impossible for one person to be an expert in all the areas of required knowledge. Most companies develop a sales operations team composed of people with various skills and backgrounds.
Sales ops can also be positioned anywhere. Hieb describes himself as working "fifty
(continued on page 2)
– Kim Wright Wiley

Today's post is by Marc Wayshak, sales strategist and author of Game Plan Selling: The Definitive Rulebook for Closing the Sale in the Age of the Well-Informed Prospect and Breaking All Barriers: Insider Secrets to a Limitless Life. "Jingle bells! Jingle bells! Jingle all the way! Oh what fun, it is to ride..." Just the thought of that …
READ THIS BLOG
>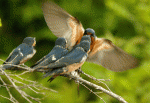 /// Upcoming Event
Sales 2.0 Conference
Monday, May 5
8:00 am
More Info
>